Butterscotch cake combines not only the cream flavor but also milk along butterscotch essence in it. Below are the details of the ingredients and process of baking butterscotch Cakes which will help you to make this delightful cake.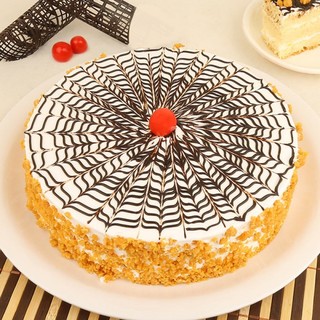 Buy this product from Here – https://www.indiagift.in/crunchy-butterscotch-cake-ig-4125
Ingredients:
1/4 cup water
2/3 cup butterscotch chips
1/2 cup shortening
3 eggs
3/4 cup sugar
3/4 packed brown sugar
3 cups all-purpose flour
1 teaspoon baking soda
1 cup buttermilk
1/2 teaspoon salt

Buy this product from here – https://www.indiagift.in/fruity-tooty-butterscotch-cake-ig-3067
Toppings
1/2 cup sugar
3 cups butterscotch frosting
1/3 cup water
1 egg York
1 tablespoon corn-starch
1/2 cup evaporated milk
1 cup coconut flaked and pecans
2 tablespoon butter
1/3 butterscotch chips

Buy this product from Here – https://www.indiagift.in/butterscotch-crunch-cake-ig-2043
Step By Step Process of Making Butterscotch Cake
Preheat oven to 180 degrees C. Grease cake pan with oil and dust it with flour.
Next, meltdown butterscotch chips. Put butterscotch chips and water in a saucepan. Put the saucepan on low heat for 2-3 minutes. After that, cool it to room temperature.
Take a large mixing bowl, add sugar and cream. Add eggs (one at a time), whisking well after each addition. Add butterscotch mixture prepared in step 2nd. Mix baking soda, salt, and flour add to creamed mixture with buttermilk.
Pour this mixture in pans prepared in step 1. Bake them for 30 -35 minutes at 375° temperature and after that cool them for around 10 minutes.
In a large saucepan, combine corn-starch and sugar, stir in evaporated milk and water until it becomes smooth. Now over medium heat, cook it till the time it becomes thick. After 2 minutes, remove this from heat. Mix some hot filling on egg yolk, and return all to the pan while stirring constantly. Cook and stir for the next 2 minutes.
Remove pan from heat and stir in butter, chips, pecans, and coconut. Let it cool down at room temperature.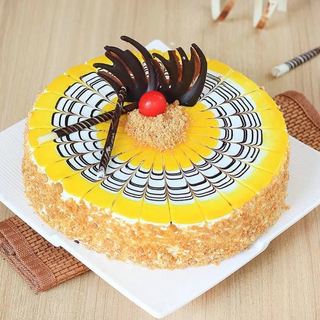 Buy this product from here – https://www.indiagift.in/butterscotch-gateau-cake-ig-3629
After that, place one layer of the cake on a serving plate. Spread the filling on both the layers. Frost sides of cakes with buttercream frosting and store in the refrigerator until served. Order cakes online for delivery in India for mid night cakes or same day delivery by Indiagift. Send cakes to India in any part we serve 1000+ cities of India.
You Might Also Like