Originated from Britain and made by using dried fruit (sometimes with fresh fruit), Plum cake is getting famous around the globe. Sometimes it is known as Fruit cake, Christmas Cake and Election Cake (as served during Christmas and Elections). Let's take a look at how it's made Plum Cake and what are the necessary things.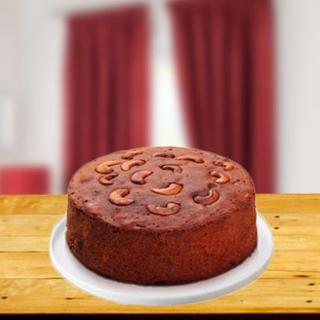 Buy this product from Here – https://www.indiagift.in/plum-cake-ig-739
Ingredients Use for Plum Cake
1/2 cup chopped cashew nuts
1/2 cup missed dry fruits (dates, cherry, orange peels, etc)
1 cup plain flour
1/4 black raisins
3/4 cup white sugars for cake batter & 1/2 cup white for sugar syrup
2/3 cup unsalted butter
A pinch of salt
3 eggs
½ tsp. cinnamon powder
1 tsp. baking powder
¼ tsp. clove powder
1 tsp. vanilla extract
How to Make Plum Cake – Step By Step Procedure
First, you need to melt the 1/2 sugar in a pan, on medium heat (wait till it turns into brown goop but don't let it burn).
Once the brown goop is ready, turn off the heat and add about ¼ cup water.
Turn back on the heat for the next 10 minutes and after that let this cool.
Preheat oven to 350F/ 180C.
Take 3/4 tbsp. flour and dredge dry fruits and nuts into it, to prevent them from soaking while baking.
With remaining flour, prepare a mixture of baking powder, spices, and salt.
In another bowl, beat butter and ¾ cup sugar, using an electric beater for the next 3-4 minutes. At 1 minute interval, add vanilla and egg yolk, then add a bit of the flour mixture into this combination and fold.
Add the caramel and dredged fruits in egg mixture prepared in step 7th.
Pour batter into a greased pan and bake it for 45-50 minutes in the preheated oven.
After that let it cool and dust some icing sugar before serving.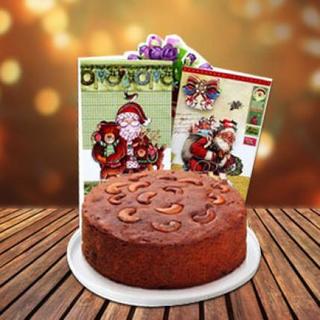 Buy this product from Here – https://www.indiagift.in/christmas-plum-cake-greeting-card-ig-1017
You Might Also Like