While rakhi is a traditional festival which is still celebrated with great reverence and is considered as an auspicious event in India, this festival has accumulated fame, far and wide. Hence, it's no wonder that we see the confluence of different cultures which have made the celebrations more interesting and holistic. One such emerging trend is Feng shui rakhi and related rakhi products that are very popular in the market and will certainly be the cherry on top when it comes to your rakhi celebrations.
Feng shui is a Chinese concept that is associated with harmonizing individuals with their environment to ward off evil and bring prosperity. Thus, the art of Feng shui while not new is sometimes misunderstood, but when articulated it will certainly bear fruits which you can experience with these Feng shui online rakhi gifts ideas.
Blue Eyed Rakhi
Blue eye is one of the trendiest Feng shui cures that is being worn by people as bracelets, amulets, or a showpiece at home. In different shades of blue, white and black, all resembling an eye, this Feng shui cure is meant to ward off the evil eye away from your brother. Therefore, you can now send blue eye rakhi online which is designed in the shape of a bracelet or like an amulet for the wrist, and make sure that your brother is protected at all times.
Bamboo Stems with Rakhi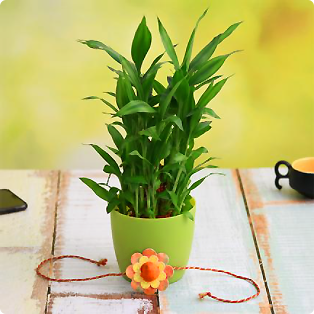 You may have come across bamboo stems as a housewarming gift, but it is related to Feng shui. With green stems that symbolize energy and prosperity, these bamboo stems will a pop of color which will only cheer up your surroundings. You can gift it your sibling as a standalone present or even send chocolates online with this unique plant.
Dragon Rakhi
A dragon is a very cool Chinese mythical creature that is symbolic of the power and greatness and very apt for your brother. You can even have a dragon rakhi sent to him as an online rakhi or either like a showpiece to display in his quarters.
Phoenix Statue Rakhi
 If a dragon is an animal for the Chinese Emperor, a Phoenix is meant for a Chinese empress who is known for her tenacity and fierceness. Thus, a Phoenix is a symbol of beauty that springs up from ashes and same goes for that brave-hearted sister of yours. Therefore, this rakhi you can always surprise her with a Phoenix statue or even a poster that pays tribute to the strong spirit you admire so much and will be a nice change from the usual flowers and chocolates combo.
Metal Turtle Rakhi
Just like the blue eye, a turtle is the Feng shui cure to protect you from all the evil aura just like a turtle shell which offers protection. Also, known for its longevity, support, and protection, turtle shell is meant to cure any negative Feng shui energy coming your brother's way when you tie a personalized rakhi with a metal turtle charm on it.
Fu Dogs/ Lions
The best gatekeepers of all, Fu dogs are meant to offer protection from all sorts of negative energy. With both lion and lioness, these Fu dogs can be gifted to both brother or sister as it captures their protective tendencies and fierce personality.
Wind Chimes 
You may have never associated wind chimes with Feng shui, but it is a very poignant symbol that is related to this art. Believed to release Feng shui energy when the chimes resonate the sound made by the wind, these home decor piece will go well with designer rakhis ordered online.
You Might Also Like