With raksha bandhan drawing near it's hard not to be swept by the craze around different rakhi and rakhi gifts. Therefore, to make sure that this day brings forth the best of both the world as you hold onto those traditional sole ties in the modern world of today, you can now send online rakhi even when you can't be physically present. With online gifting websites, just a click away to provide you with trendiest rakhi gifts of all, you will be surprised to know how partial, people are to stone rakhis. You may have heard of stone rings, but stone rakhis have recently become very popular because of their symbolic value as you go out of your way to send rakhis with these fabled stones to your loved ones. These healing stones are not just valuable stones but have deep meanings behind them ascribed for centuries. Conveying the real reasons behind raksha bandhan i.e. to pray for your siblings' protection and their prosperity, these rakhi stones or bracelets reciprocate those feelings more tangibly.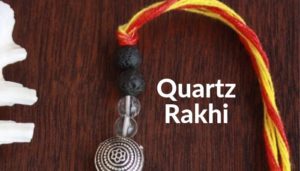 Quartz is supposed to be a semiprecious crystal that resembles a diamond. Well-known for its purity and negativity purging powers, this stone has many benefits. With its clear crystal pattern, this stone is considered as a very strong healing stone that places the benchmark for all other. Therefore, you can now have quartz rakhi customized for your brother with tiny quartz pellets set in the shape of a Swastik or Om. Thus, when these two sacred things are combined, your brother will surely be astounded by the surprising results which come with wearing a Quartz Om rakhi that has healing qualities.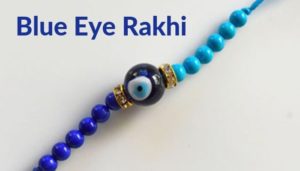 While not exactly a stone, a blue-eye is a feng shui cure that works the same way as these healing stones. With the ability to curb the negative energy and ward off the evil eye, a blue-eye is usually worn as a locket or bracelet and has been largely accepted as a fashion accessory. Therefore, you can now send blue eye rakhi to your brother that is embellished with this powerful stone and little beads and crystals. A blue eye rakhi, when tied around your brother, will act a shield against all more negative energy and vibes and make him prosper in all he does.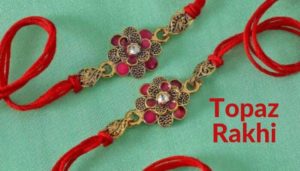 Topaz, with its blinding colors in blue, pink, green, yellow and black is a precious stone that turns head because of its utter beauty. With magnetic energy of its own, a topaz is supposed to provide intelligence and strength while stimulating wisdom and clarity. With a great significance in the Hindu scriptures, a topaz is supposed to be a super special stone that provides longevity of life, intelligence and fulfills thirst. Thus, a topaz rakhi is a good choice if you want to send rakhi online from UK to India, and prove to him his worth which is so much more than anything the world deems valuable.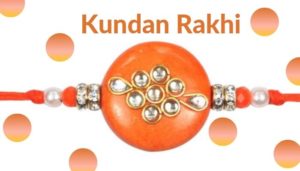 Kundan is a special jewelry art where gold foil is used in between stone and mount. One of the oldest forms of jewelry that makes it so refined, Kundan is also available in various colors. These intricately set colorful stone, thus, get transformed into jewelry pieces and are now available as Kundan rakhi. Your brother will no doubt feel like royalty with a Kundan rakhi on his hand that is gifted from you.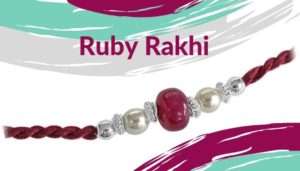 Rubies have always been favored for their dark red color which is associated with royalty. However, what makes this exotic crimson stone so fetching is its ability to restore vitality while maintaining your eyesight and blood levels. Therefore, a ruby rakhi certainly qualifies as a wonderful rakhi gifts for brother as you ensure that not only he is protected, but also his health is preserved.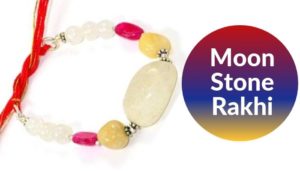 Just as the name suggests, moonstone is said to have a whimsical quality that relates you to your feminine and emotional side. A bluestone rakhi is said to have a connection with the moon and will certainly help your brother connect to the different aspect of his nature, which you wouldn't have anticipated.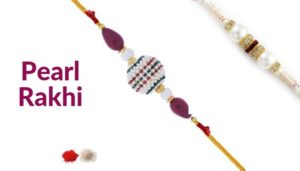 Pearls may be loosely related to the healing stones, but they are well-known for their purity, protection, and calming effects. Therefore, for your brother well known for his short fuse, a pearl rakhi will be a perfect rakhi gift as compared to an ordinary rakhi.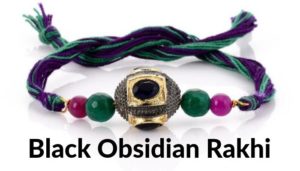 If there's a stone that is considered to have magical powers, then it's the black obsidian. Providing you with the ability to foresee things and even mind-reading abilities to sympathize with others, a rakhi or bracelet with black obsidian stone is perfect rakhi for your brother.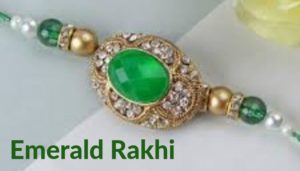 With a bewitching green color that is said to symbolize birth, abundance, and intelligence, wearing an emerald will ensure your prosperity. Just like emerald bracelets or rings, an emerald wristlet will benefit your brother in more ways than one.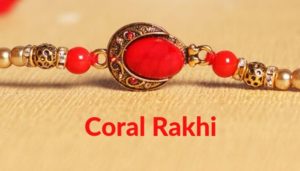 This gemstone in the most fetching pinkish-red hues is said to bear resemblance with the manly qualities of Mars. With blood purifying qualities, this coral stone has several other qualities which make it all the more endearing.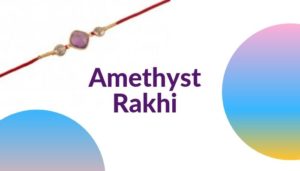 Well-known for the beautiful purple color that gives it a very sophisticated and royal look, an amethyst stone is known for its transformative qualities, protection, awareness, and meditative qualities. Therefore, a personalized rakhi or bracelet with the precious amethyst is an elegant gift for anyone.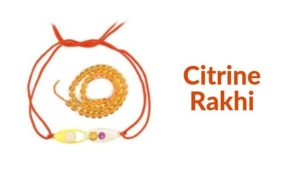 With a gold finish which resembles the sunlight, this golden gemstone helps procure wealth and business deals. Therefore, a citrine rakhi will be the good luck charm your brother would require to succeed in his ambitious pursuits.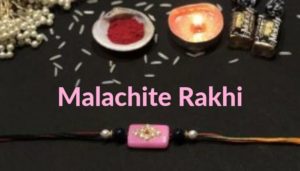 Endowed with curing energy, a malachite can cure pain when placed in the said area. With a rich dark green color that also helps in individual development and stress, a malachite rakhi will work wonders for your brother, this raksha bandhan.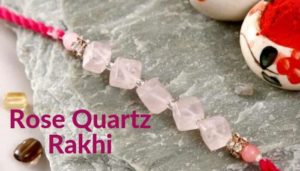 Just as rakhi celebrates the festival of love between a brother and sister, a rose quartz stone is a gem which replicates your unconditional love. This precious stone helps eradicate any sort of enmity and helps facilitate love. Thus, a rose quartz lumba rakhi is perfect to forge a special bond with your Bhabhi (sister in law).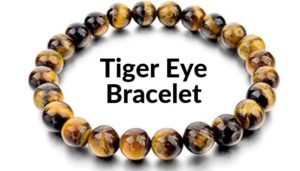 Resembling the orange and black stripes on a tiger, a tiger eye rakhi is inspired by the yin yang phenomenon and help negates negative energy. Helping your brother to remain pragmatic and optimistic, a tiger eye rakhi or bracelet will a lovely rakhi gifts for him.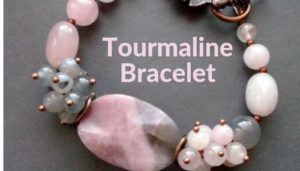 Available in various color, this semi-precious stone has a plethora of qualities, the major ones include building self-confidence, bringing joy and reducing fear. Therefore, for your shy yet smart brother, a tourmaline rakhi will spur him to excel in whatever field he was born to pursue.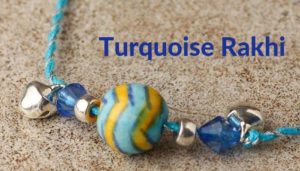 With the enchanting blue color that reminds you of the clear blue oceans, a turquoise evolves the spiritual condition, forges relationships, and develops self-knowledge and awareness. To pull a regal elegant look, a turquoise rakhi is perfect for a rakhi bracelet.
Therefore, when these stones are customized in rakhi or bracelets to match your brother's personality, you will be surprised to see them acting as a catalyst for your brother's success and the relationship you share. Available in many online gift sites, these stone rakhis certainly make valuable presents for your brother and you.