Raksha Bandhan is often called the festival of siblings. It is often described as a sibling bond of protection and love. Siblings celebrate this festival in the month of Sraavan and sisters tie online rakhi threads on the wrist of their brothers and the latter gives their sisters gifts. But with time and age, the traditions associated with Raksha Bandhan have changed. With families getting included in all celebrations, it goes beyond only sibling bonding now. So why not include the Bhabhi's or Brothers wives also in the celebration?
Rakhi Gift Ideas for Bhaiya Bhabhi On Raksha Bandhan Occasion:-
Some Hindu mythology does indicate that a holy thread was tied on the wrist of the brother's wife to seek her protection. History books also indicate that this culture of Bhabhi rakhi has been going on in several cultures of Rajasthan, Gujarat and Maharashtra. As times evolved and families started shrinking, Bhabhi rakhis have become more popular now. Called Loomba or Lumba Rakhis, these symbolize the bond that a sister and sister in law share. What started off as a tradition in some communities in India has travelled across the country. Bhai-Bhabhi rakhi sets are now popular during Raksha Bandhan and sisters consider this gesture as a way of showing their Bhabhi's how important they are. This bond of Bhabhi rakhi cements the relation that sisters share with their brother and sister in law and goes beyond only the festival.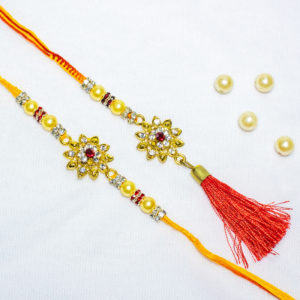 Personalized Rakhi Combo Gifts for Bhaiya Bhabhi: –
Bhabhi Rakhis are often like a bracelet that pretty hangings and colours that can be tied to the bangle. Traditionally it was a thread with beads and other hangings that would be tied to the sister in law (Bhabhi's) bangle. Ober the years, it has also become a fashion statement with several pretty rakhi deigns coming up. These loombas are most sought after. While bhaiya rakhis are generally simple since brother prefers to wear simple mauli rakhi or rudraksha rakhis. But sisters treat this as a means of giving a classic piece of loomba rakhi to their Bhabhi's. It has gained the forms of an aesthetic accessory for a woman.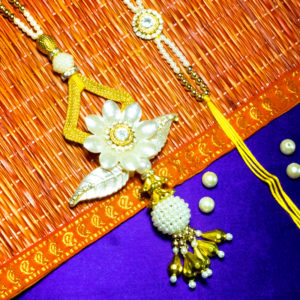 Loomba rakhis are now worn as a fashionable accessory for the week that follows Rakhi day. Bhaiya Bhabhi rakhi sets are the norm of the day. Several rakhi designs for lumba rakhis are found with the most popular ones being with large hangings, circular bracelets, stone beads, zardozi work etc. Bhabhi's also look forward to their 'nanand' gifting them this Bhabhi rakhi and bhaiya Bhabhi sets.
You Might Also Like