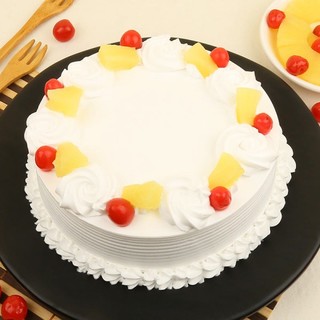 Last Bought
Matthew
Nandyal
Customer Reviews
4.9 based on 27 Reviews
Pineapple Cake
Product Reviews ( Rated
4.9
/5 based on
27
Reviews)
Matthew
-
Nandyal Andhra Pradesh
-
10/11/2018
Tanu
-
Chamba Himachal Pradesh
-
16/05/2018
Awesome service delivery on time !!!
Deepak Kumar
-
Aurangabad Bihar Bihar
-
15/05/2018
Nice service .Cake was tasty .
Ashay
-
Samastipur Bihar
-
10/05/2018
Saddam Hussain Ansari
-
Ghazipur Uttar Pradesh
-
24/04/2018
Rai
-
Roorkee Uttarakhand
-
25/12/2017
Awesome and bests cake ever. Very prompt delivery
Amitesh
-
Nagaon Assam
-
16/01/2018
Thank you so much for the cake. It was always a big challenge to order cakes online in my native. However now It is all because of you that I do not have to worry much on that. I ordered cake for my sister, and she was truly delighted with your service. Although there was a small goof up in the Birthday Message, but I am still very thankful to your team who made it really possible to bring smile on my sister's face. I wish you all the very best! Thank you so much ! Cheers!
Tayyaba Karim
-
Qadian Punjab
-
27/10/2017
Shiuli
-
Silchar Assam
-
18/09/2017
Great service, thank you.
Kanchan Dinesh Gupta
-
Varanasi Uttar Pradesh
-
18/05/2017