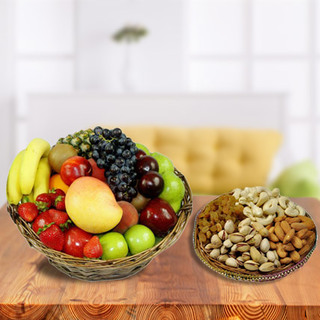 Customer Reviews





5.0 based on
6 Reviews
Fresh Fruits Basket with Dry Fruits
Product Reviews ( Rated
5.0
/5 based on
6
Reviews)
Gaurav
-
Delhi
-
13/07/2021
My friend was very happy with the choice and quality of the Fresh Fruit Basket with Dry Fruits!
Nidhi
-
Bangalore
-
29/05/2020
Beautifully packaging! The bananas were a little bruised but overall a lovely birthday gift!
Shamju Mambally
-
Mumbai
-
27/10/2018
Thanks for wonderful gift. Delivered at correct time. Excellent gifts..
Dinesh Perumalpillai
-
Nagercoil Tamil Nadu
-
10/02/2018
Shereen J
-
Pune Maharashtra
-
13/02/2018
Prompt service both by the service staff and by the delivery! Impressive :)
Tayyaba Karim
-
Qadian Punjab
-
29/10/2017