Following Rose Day, is Propose Day on 8th February 2020. While many cannot trace the history of this special day, Propose Day is meant to declare your love to the ones you love so much. To start Propose Day 2020 Valentine Week with a bang, this day calls for reflection, confession, acceptance and also a celebration of the love that joins two people together. Unlike Rose Day, where you show your love with a romantic gesture that includes flowers, propose day, requires both words and actions as you let your words express your feeling while your actions give life to your words. Thus, whether it's a love confession that comprises of your guy bending down on one knee or writing a love note, propose day is sacred to any couple where you not only make promises with your word but also prove them with your actions.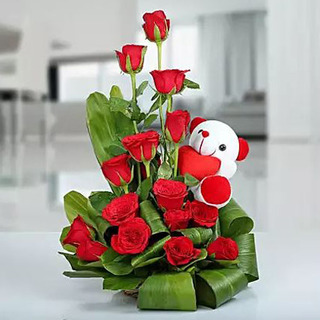 Buy this product from Here – https://www.indiagift.in/valentine-beauty-of-nature-ig-3255
However, a proposal with just words is not enough and will be forgotten easily but setting the stage with the best valentine gift for girlfriend is important even if you are in favor of freestyle or impromptu proposal. Thus, whether it's accompanied with best propose day gifts for Valentine's day gifts or a movie-worthy scene, check out these ideas to celebrate propose day and make it memorable for your partner and you
A Banner Proposal
While banners are seldom seen in an intimate celebration, except for homecoming or birthdays and anniversaries, you can borrow the same thing for valentine's day gift ideas and celebrate your union. Spelling out some cliche proposal like 'WILL YOU BE MINE' in paper cutout banners across the wall and make it a surprise for your loved ones, this banner proposal comes across as a very bold declaration. This lovely gesture of valentine gifts for boyfriend will not go unnoticed by your partner but will be a brave declaration of the love you share want others to know about it too. This gesture will surely not go unnoticed when your intended just walks into the room and get a surprise of their lifetime.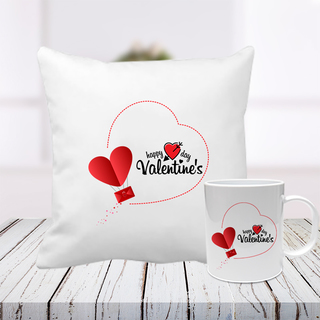 Buy this product from Here – https://www.indiagift.in/exclusive-valentine-cushion-and-mug-ig-3427
Video Proposal
A proposal is a big deal as letting out your deepest feeling to anyone is not easy and needs a whole lot of courage and patience. Therefore, if you plan to propose to someone and can't make up your mind on how to go about it after being constrained by time or distance, a video proposal as valentine gifts for boyfriend fits the bill. Thus, you can create a little clip with both your pictures together, tracking your journey and conclude it with spelling out your proposal using various editing tools.
Coffee Date
If you and partner favor understated things and favor simplicity over everything else, then a coffee date proposal is much more your alley. While coffee houses or cafes serve as the venue for first dates or introductions, you can relive those initial days of your relationship by inviting your partner for a coffee date which will turn out to be an unforgettable memory for them when a proposal is involved in it. While your partner may have thought of this date as your usual hang out place or valentine day gifts for husband, a proposal at your usual coffee place wouldn't be something they would have thought of and will be surely overwhelmed by this action.
A Movie Proposal
If you have ever been in a romantic relationship, there's no forgetting the fact that movie nights at home or the theatre constitute a classic date night. Therefore, if you schedule a movie night with your loved one, it would be a perfect propose day foil to your valentine's gifts online. You can then propose to her/him, asking them to be a permanent movie partner or star in a movie plot that featuring you both. Thus, you can plan the proposal with a romantic scene that comes during the movie and carry the romantic ambiance from the screen to your living room or your private cocoon. This proposal idea is perfect for a valentine's day celebration too.
Candlelight Dinner
Perhaps the most cliché of all celebrations, a candlelight dinner never gets old but is a trope that anyone would like to try, once in a lifetime, and propose day certainly presents itself as a valid example of celebrating your love. You can either go to an upscale place or even make a makeshift one with a table, chairs, candles and of course, midnight cake delivery. Once everything's been cleared up, you can surprise your girl by bending on one knee and ask her to spend her life with you. Thus, surrounded by candles and cakes ordered via same day delivery gifts online with their shimmery glow making her eyes sparkle, a proposal will only make this sweet and sensual evening more than special.
T-Shirt Proposal
It's not uncommon to see couples roaming around with customized T-shirts that contain their pictures or even one-liners like 'king and queen' that give the impression of a serious exclusive couple. Thus, for the occasion of the proposal day, you can wear one or give it to your partner who will be surprised to see a proposal written on it. Thus, with this proposal t-shirt having the caption of online valentine gifts for him, you can take the words 'wearing emotions on a sleeve' to a whole new level. You can then customize this t-shirt with a humorous or witty proposal printed on it.
Buy this product from Here – https://www.indiagift.in/personalised-couple-t-shirts-ig-1136
Armed with all these special ideas for proposal day that range from simple ones to strategic ones and require a lot of planning and plotting, a proposal that goes well planned will also serve as a memorable valentine's day gift for bf and something that you both will cherish. Not only will your loved one, but you too will have a great time celebrating this proposal day and make sure that the whole valentine's week will remain memorable for you both.
You Might Also Like