Flowers are one of life's most pleasures. This natural beauty acts as the purest beauty and it is the most flawless form. No showpieces will give you the vibrant color to your living but a vase of flower arrangements gives life to your dull room. These vases of flowers add a pop of color to your living room or give a pleasant aroma in your surroundings. People who travel far distances can witness the seasonal blooms, like the cherry blossoms in Japan or the tulips in The Netherlands. This is the main reason why people started gaining interest in elegant flowers. In the world you will find a wide variety of flowers, some are seasonal blossoms and some are blossoms all year.  Nowadays you will find these blooming natural beauties anywhere and everywhere in the world and these beauties will surely make your day very beautiful.
If you want to know more about the beautiful flowers in the world, we have prepared a list of the most beautiful flowers in the world, and you will definitely want to add them to your house.
Many people count the lilac among their favorite flowers. This flower is having a bold purple color and it comes with an elegant white outline imbue the flower with a regal look, plus the elongated petals add uniqueness to the birthday flowers.
The iris flower looks give you meticulously designed, which is designed by a skilled artist and perfect as anniversary flowers. That's why it was the favorite subject of Impressionist painter Claude Monet. Splashes of blue, purple, yellow, and white make for a truly unforgettable artistic arrangement.
The dahlia is one of the lushest and most vibrant colored flowers. You will find dahlia flower baskets in all the rainbow colors and also you will get a range of pink and red to orange or white flowers. Some dahlia petals even have stunning color gradients, like bright reds that gradually fade into soft whites or gorgeous purples that lighten from stem to tip.
The bird-of-paradise is so named because it resembles a brightly colored bird, complete with fluttering wings and a slender body. This flower has vibrant colors like oranges, reds, and blues that make up the impressive "wingspan," and the colors really come alive in the sunlight.
The lily flowers are so beautiful and elegant that it has given inspiration to Claude Monet's visual artistry. This flower has a beauty and symmetry that's seldom seen, plus the radiant colors almost seem to have their own glow.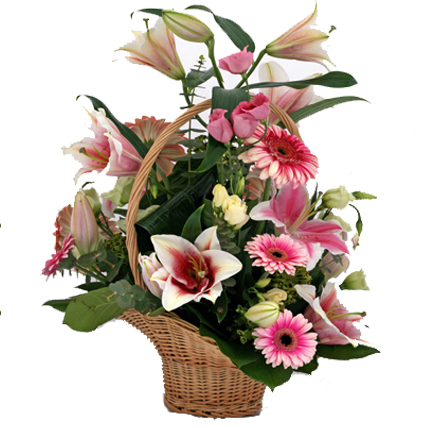 A bright red and orange marigold grows in a lush green garden. It is the most beautiful sight nature has given us. The golden hue of the flower becomes more incredible the closer you get. This flower has unique ridges along with the petals, the rich yet subtle color variations, and the cornucopia of shapes give the marigold an almost hypnotic beauty. These flowers are easily available in flowers shop near you.
The lotus almost doesn't seem real. The outward-reaching petals radiate with vibrant shades of pink and white, while the golden stamen in the center provides a focal point that brings the whole presentation together. The petals are almost perfectly symmetrical in size, and the highlighted tips add incredible dimension and character to the heart shaped flowers.
These beautiful flowers blossom not only your eyes but also blossom your surroundings and give a pleasant aroma to the area. These beauties are so unique which makes them stand out from the rest of the flowers. All these beauties have given inspiration to many artists to create master prices. So you can send flowers bunch online anywhere in India. All these flowers are available with online flowers delivery in India. And it will be a perfect gift for a birthday occasion or any other occasion. Online you will get several flower bouquets like you will get anniversary flower bouquets, valentine flower bouquets, and any other occasion bouquet. You send these beautiful flowers to the doorstep of your beloved ones by aiding with the same day flowers delivery.
You Might Also Like: