Karwa chauth is a Hindu festival and this festival is celebrated in the month of Kartik. On this day all married women and soon-to-be-married women do fasting for the well-being and long life of their husbands. This fast starts from sunrise till the moonrise. Women break their fast after giving argh to the moon. In many Bollywood movies we have seen the women fast throughout the day for the wellbeing of their husbands, or even fiancé, and break the fast after a glimpse of the moon in the evening.
This fasting ritual is considered to be of great importance, but abstaining from food for a day can have a huge impact on your body. If it is not done the right way then fasting can cause hypoglycemia. In hypoglycemia your body blood sugar levels drop below normal, which will create dizziness, weakness, headaches, and other related issues. So it is important to do the fast the right way and exchange karwa chauth gifts.
Here are a few tips and precautions which can help you sail through this auspicious day without any health issues.
Precautions you must take
Before keeping the fast it is important to tailor the necessary step to keep the fasting ritual as per your own health and requirements, it is especially for those who have an underlying health condition. If you have diabetes, hypothyroid, or hypertension or are pregnant then you should not do this fast.  If you still want to keep the karwa chauth fast then you need to consult your doctor.  It is advisable to avoid the fast if you are pregnant. If you have diabetes, in that case, hypoglycemia is more dangerous for you. Before keeping the fast you need to talk to your doctor about medications and you need to eat enough food during the sargi to prevent yourself from hypoglycemia.
Sargi Tips
Karwa Chauth fast is an important festival and eating 'Sargi' at the beginning of the day also has its own importance. This helps you to keep hydrated. You need to incorporate the following things in the sargi pooja thali :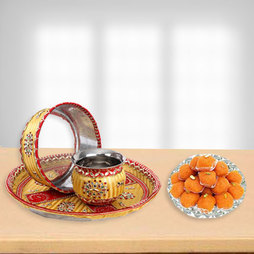 Fruits and nuts are an unquestionable requirement of the fast. It is a rich source of supplements like vitamins and minerals. This is essential because it keeps you nourished and also fulfills the water level of the body. Fruit baskets will be perfect with the required liveliness when you need to avoid nourishment and water the entire day of karwa chauth.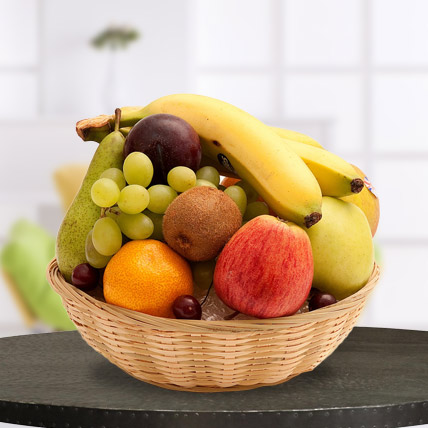 Milk items help you to keep a full day energetic because it is a long day for you with the fasting. Milk items like curd and paneer are very important because they are a rich source of protein. With the help of milk items and dry fruits, you pass your entire day without feeling hunger cravings.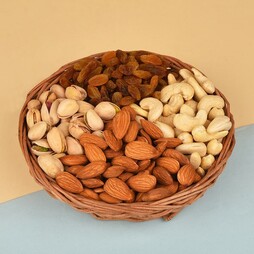 Sugar intake helps you to keep it energetic and it is important to keep you vitality during Karwa Chauth. While taking sugar there should be some limit at the beginning of the day's meal. So you can include traditional sweets and dessert-like sewaiya which is a combination of milk and semolina.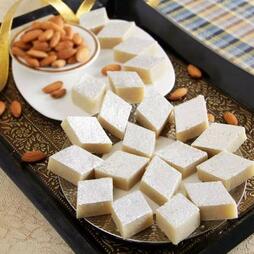 After Moonrise Tips
At the time of breaking the fast, it should be broken with little sips of water for the beginning. Afterward, the following food things should be a part of your 'After Moonrise' diet on Karwa Chauth:
You need to eat non-acidic food
You need to eat food that is rich in protein and nutrition. You can incorporate vegetables, curds, entire grains as chapatis, and rice with pulses. You can also take buttermilk to rehydrate yourself.
I hope our tips will help you to keep your karwa chauth healthy and nourished and do not forget to buy personalized karwa chauth gifts for yourself and your family.
Happy Karwa Chauth!
You Might Also Like: