Choosing the best birthday gift for the makeup devotee is a very difficult task because that person may be having everything and be aware of all makeup products. You haven't seen a person without nail polish and never sleep without applying their skincare products, for that person it is a very tedious task to find the perfect gift. But now in this technological world, anything is possible. With a few clicks, you will get an online endless makeup product available for you of different brands.  With these online gifting ideas you will be able to get the best gifts for makeup lovers and that will bring a smile to their faces. Here are a few best birthday gift ideas for Makeup Lovers.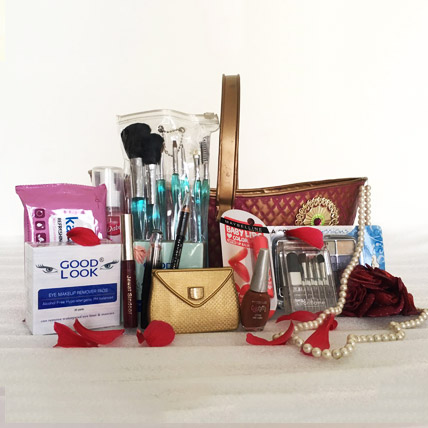 If a person is a newbie in makeup, then give them a basic makeup basket. It is a pumped to open kit which includes 60 eyeshadows, three eyeliners, three brow powders, six face powders, 16 lip glosses, and two mini makeup brushes. This kit considers the powder formula of ultra-soft and which is easy to blend, and the cream glosses and eyeliners glide on with ease. In this palette, you will get bright and neutral tones colors that are easy to create any kind of look, from bold to natural.
 Sometimes we don't get proper palaces and lighting to apply our makeup or groom our eyebrows in the right way. You can help your makeup lover while gifting this lighted makeup mirror. These gifts for her are having a large viewing area, bright lighting, and portable build; the recipient will enjoy the lighting and its connected features for taking videos and selfies with a smartphone. This mirror has a compact design, multiple magnification options, and adjustable light settings.
 We all know Sephora is a big beauty brand and its products are bestsellers. A gift set of Sephora will be the best birthday gift for your wife. In this gift set, you will get products like the Nars Bronzer shade, the Beauty Blender makeup sponge, and the Ouai leave-in conditioner. Every makeup lover loves to try all of these favorite products and it will be a good opportunity for the recipient to add new products to their makeup collection.
For the makeup lover, brushes are very important. With brushes, one can apply makeup. So you can give a brush set as a birthday gift for your girlfriend would be a good idea. Sometimes we lose and forget our brushes when we have a number of concealers, blushes, and eyeshadow palettes, so it will be easy to get your makeup done with the set of great makeup tools. So you can gift a set of good makeup brushes of some good brand will be a great idea and the recipient will love to use the set.
Beauty blenders are a very important tool for makeup lovers and it will be impossible to apply makeup without an applicator sponge. So you can give a beauty blender kit to a makeup lover and it will be the perfect gifts for girlfriend. You can give a Sephora beauty blender because it is soft; has a foam-like texture that flawlessly smooths complexion products.
You Might Also Like: