If you want to make your first wedding anniversary memorable and you are looking for a first wedding anniversary cake then we have one special wedding anniversary cake recipe which you can make yourself at home. Here we are sharing the recipe for strawberry cakes. This cake is buttery soft and moist.
Tips:
While preparing the cake you need to take care of a few things
Avoid the use of an enormous mixer with cake batter
Avoid over-mixing or under mixing of the batter
Always cool down the cake and then start assembling and decorating the cake.
Ingredients
16 grams of fresh or frozen strawberries
1 1/2 tsp granulated sugar
1 1/2 grams of sticks unsalted butter
1 1/2 cups granulated sugar
4 large eggs
1/4 cup buttermilk
3/4 cups strawberry puree
1 tbsp vanilla extract
2 1/4 cups all-purpose flour
1 tbsp baking powder
1/2 tsp baking soda
1 tsp salt
pink food color(optional)
 Preparations of the Strawberry Juice:
First, take the fresh or frozen strawberries and then mix the strawberries of your choice with the 1 1/2 tsp sugar.
Then cover the bowl and let the mix rest for 1-2 hours until the berries get juicy. Set the mix at room temperature.
Now take the berries and 2 tablespoons of water in a saucepan and cook for 10-15 minutes at medium heat until it gets soft.
Then mash the berries with a fork and then strain mix to remove the seeds and pulp.
Again put the juice in your saucepan and then cook the juice at medium-low heat for 10 minutes.
Put the strawberry juice in a glass container and refrigerate for 1-2 hours so the juice is cool down.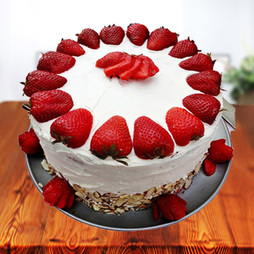 Baking the Cake:
Firstly Preheat the oven to 350 F and grease cake pans with butter, then put butter paper in the pan and set aside.
Now mix the butter and sugar in a mixing bowl with the paddle attachment. Sweep the sides of the bowl.
Then add the eggs in the bowl one by one at a time, mix well and sweep the bowl after every addition of the egg.
Take the measuring cup then combine the strawberry puree and buttermilk. Add the vanilla extract.
In a mixing bowl, mix the flour, baking powder, baking soda, and salt all together.
Now add slowly dry mixture into the butter and egg bowl, then half mix of buttermilk/strawberry then repeat. Stir just until all ingredients are mixed.
If you need a stronger pink color then add a few drops of pink food color.
Then divide the batter into two different cake pans and then bake the mix for 30-35 minutes.
Allow the cake to cool down in the pan for 10 minutes and after that start frosting according to you.
You Might Also Like:
How to Make Strawberry Cake at Home?