Twenty-five years anniversary is truly something which needs to be celebrated. This anniversary comes after spending a quarter of a century together and this is a major milestone in a couple's life, it is a great blessing. This anniversary comes as a silver jubilee of your union. According to tradition, husbands have to give their wives a wreath of silver to celebrate their 25th year of marriage. Silver is a material that is durable, long-lasting, and precious like your relation. Silver gift will be the best marriage anniversary gift for couples who are celebrating their silver jubilee.  Also, it is the best time to party. You are at the point in your life where your kids are old enough to party with you, and enjoy taking that walk down memory lane with you. Make your 25th wedding anniversary stand out with these great ideas.
To choose the theme of the anniversary you don't need to look far because it is your silver wedding anniversary, so it is better to celebrate with sparkles and silver. Decorate the venue with silver and white, it will give you an elegant and classy vibe. A balloon garland of silver and white with white flower accents gives that added wow-factor. You can add a silver curtain, glitter table numbers, and a banner announcing the day of your wedding. You can put some of your old photos of togetherness in a photo collage form. You can also add the theme on the invite and Let everyone know with silver glitter, marriage anniversary cakes with marking the day of the event.
If your 25th anniversary comes in the summertime then it will be a great time to go for a beach celebration. Luaus is generally a Hawaiian party or feast and it is usually done to celebrate some auspicious occasions such as a great victory in war, a noble warrior, the birth of a healthy child, or an abundant harvest. It's also the perfect way to celebrate your wedding anniversary. During the luau, tropical flowers are used to decorate your venue with bright tropical flowers. In Hawaiian-themed parties, pineapples and coconuts are the important elements. Apart from these parties, you can surprise your wife or who is celebrating their 25th marriage anniversary with anniversary gifts for wife and much more. So placing some edible centerpieces of pineapple and other fruits on wooden platters, seashells all around, and serve fresh coconut juice for refreshments.
For your 25th anniversary celebration, you can go back to the time when you fell in love. Go for the '80s themed parties. 80s themed parties are popular for their iconic checkerboard boxes of black and white splashes of neon color, neon tights, skinny jeans, and bomber jackets. You can decorate your venue with garlands of colorful circles, colorful streamers, neon balloons, and even neon lights to point the way to the venue. Also, you can set up a table with colored cassette tapes, and records, and serve sugar cookies decorated like Rubik's cubes. A centerpiece of marriage anniversary flowers which are wrapped with ribbons of green and pink gives that pop of color and serves dinner on snazzy dinnerware with black pinstripes and colorful shapes.
You can celebrate your anniversary with the feast, and the Greek feats are very popular.  You can make a celebration markable with the Greek banquets. Don't worry; you do not have to go to Greece for the feast. You can organize the Modern Greek feast at home. For that, the white and blue colors will be a great combination with silver accents.
Serve a platter of small bites consisting of olives, feta cheese chunks, hummus dip, Greek eggplant dip, pita bread, and stuffed grape leaves. For the main course, you can serve savory lamb pita sandwiches that go perfectly well with Meatless Moussaka and a selection of Greek wines and beer, and amazing anniversary gifts.
Nowadays you will get these things from online gifts shop like Indiagift. They not only just offer, but also help you in surprising your beloved ones on their special day. They provide midnight cakes delivery, same day cakes delivery.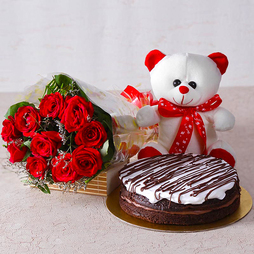 You Might Also Like: