India is a multicultural country and every culture has its own customs so accordingly people celebrate their festivals. Holi is a big Indian festival and it is a festival of colors. So you will be amazed to see that holi is also celebrated in different ways and many unique traditions you found across India. Northern region holi and southern region holi are completely different from each other. Both the regions are having different holi fervor. This alluring diversity for festive celebrations makes India beautiful. But one thing is the same across India that is an exchange of Holi gifts.
So here are some unique holi traditions of India:
Lathmar Holi – Barsana Village, Uttar Pradesh
Lathmar Holi is celebrated in Barsana with much fervor and intensity.  This village is situated around 27 km from Mathura in Uttar Pradesh. Barsana village Holi is popularly known as Lathmar Holi because it is the birthplace of Radha. In Barsana Holi is not celebrated only with colors, but also it is celebrated with lathis. During the holi women will be armed with lathis to hit the men and men do some preparation to save themselves from lathis with dhal or shields. Those men who are caught by the women will dress up in female attire and they have to dance on the streets.
This lathmar holi originated from Hindu Mythology. According to mythology Lord Krishna tried to tease Radha and he wanted to play with her in her village then local women got angry and they chased Lord Krishna away from the village with Lathis.
If we go to Punjab then this state has a different flavor and way to celebrate the festival. In Punjab, holi is known as Holla Mohalla. This is a three days festival and it is celebrated a day after the holi. There is a day celebrated for holi sweets and honoring the bravery of their Sikh warriors. This celebration is performed by the Nihangs. It includes an extensive display of traditional martial arts which is later followed by music and dancing. Also many games and other events are organized in the Holla Mohalla like tractor race, gatka fight, etc. many people came to Punjab to celebrate this Sikh warriors bravery festival.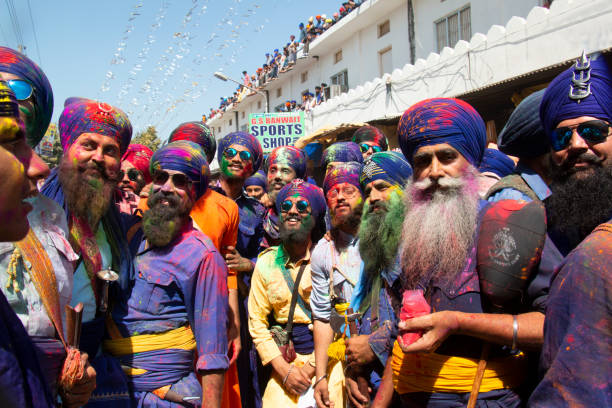 Rang Panchmi is celebrated in Maharashtra and their Holi is known as Rang Panchami or Shimga. Rang panchami celebrations include Holika Dahan. In Holika Dahan people light a firewood pyre on the night before the actual celebrations. In the morning, which is the Rang Panchami day, people celebrate Holi with wet and dry colors and water. This festival is celebrated for one week.
In Manipur, this colorful festival is celebrated for five days and is known as Yawol Shang. This festival is celebrated to pay tribute to Manipur God Pakhangba. This festive celebration starts after sunset, people burn the hut called 'Yaoshang Mei Thaba,' and after that naka theng is performed in which kids are allowed to visit every home for donations. On the second day, local bands will perform in temples and Girls ask for donations for the next two day and the last two days, people celebrate this festival by giving chocolates and spraying water and colors on each other. Also, Manipuri folk dance will be performed during the festive celebrations.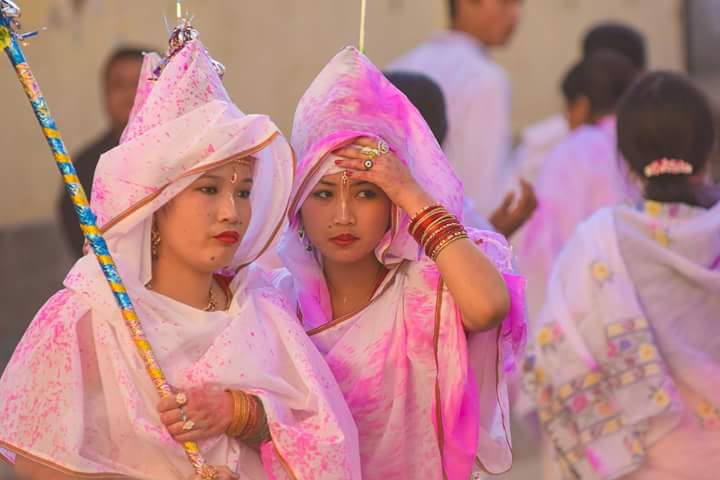 This festival is quite interesting. This state has its own unique version of holi which is known as Manjal Kuli and this festival is celebrated in Gosripuram Thirnma's Konkani temple. During the first day of the festival, all the devotees visit temples and on the second day, people play with the colors and water and perform traditional folk songs and dance. But the uniqueness of this festival is people use turmeric instead of colors.
Goa is the party place of India and in Goa holi is known as Shigmo. In Goa, this festival is having a massive celebration with street dance and traditional folk songs are performed by the local farmers. Similar to the Goa carnivals, tourists took part in the Shigmo festival. There are several traditions that are related to shigmo and all these are performed during the festival in various parts of the state like Parades, puja, etc. During this time boats are decorated according to regional and spiritual themes. This shigmo is celebrated in two ways: Dhakto Shigmo and Vhadlo Shigmo. Dhakto Shigmo is celebrated by the rural population and Vhadlo Shigmo is celebrated by Upper all the classes.
Like every festival, Holi celebration has many flavors that keep the country diversified from the rest of the world. So if you really want to enjoy the real essence of the festival, then take part in these events then you will realize why we say it happens only in India.
You Might Also Like: