Lohri is the festival of happiness, prosperity, singing and dancing. Also during the lohri festival people buy new clothes and give gifts to each other. It is a big festival in Punjab and Haryana. On the 13th January, this day is declared as a state holiday. All sikhs, hindus, muslims and christians celebrate this festival. Lohri is a harvest festival. During that time main harvests of this season are maize, sesame sugarcane, mustard and groundnuts. All these things are then given offers to fire of god at the time of bonfire and then all people sing and dance around the bonfire and show their happiness. During the lohri festival people eat gur, rewri, mungfali, gachak, popcorn etc.
In the family if any marriage occurs and any newborn baby is there then these families celebrate lohri with great pop and show. They invite their friends, relatives and neighbors and together they celebrate lohri festival and take blessings from the god of fire. Also they give return gifts to people who came in their lohri celebrations. If you are looking for lohri return gifts then we are having amazing lohri return gifts for friends, families, and relatives. All these lohri gifts are budget friendly and you can order gifts online from any online gifting store.
Mason Jar filled with Lohri sweets or Dry Fruits
Lohri sweets are a popular Lohri gift. On this festival usually people give a mixed box of Lohri sweets or a box of dry fruit boxes. If you are organizing a lohri party we have some incredible ideas of modern and traditional twists of lohri gift. You can choose a Mason jar filled with lohri sweets. You can get several sizes of mason jars online. It will be an amazing lohri gift for friends, family and relatives. You can buy personalized gifts by adding the name and initials of the jar. So that receiver will remember it.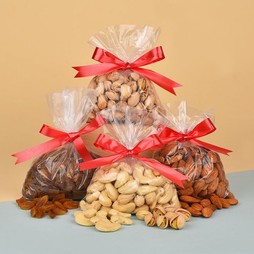 Flavored Popcorn gifts set
Usually, people love to eat popcorn during Lohri. Lohri and popcorn are connected with each other because it is a harvest festival. So it will be better to give flavored popcorn on the occasion of Lohri and it will be a fantastic Lohri gift also. People love to eat popcorn while watching movies, TV series, or their favorite sports. From online gifting sites, you will get amazing varieties of flavored popcorns with peanuts. And it will go with tradition and with a modern twist also.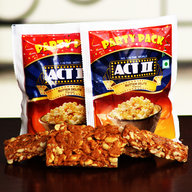 Chocolate will never fail to impress someone. It will be a great gifting option whether you are gifting on some occasion or you can give as a return gift. It will add sweetness in the recipient's life and sometimes few people do not like lohri sweets and we cannot keep it for a longer period of time but with chocolate this problem is not there. No one will say no to chocolate and we can keep the chocolate for a longer period. Also we will get amazing varieties of chocolate hampers and online we get chocolate hampers. It is up to you, you can choose according to your budget.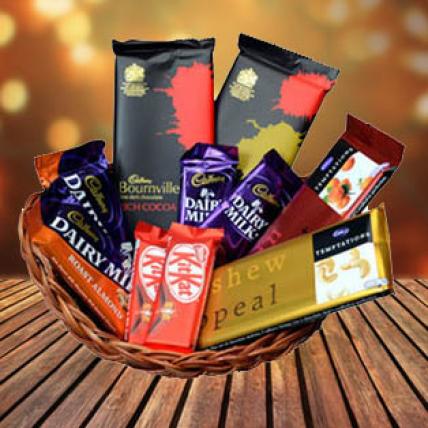 Traditional Sweets Basket
You can go with the traditional Lohri sweets like gachak, til k eladoo, etc. this will give you a pure traditional feel. Nowadays we are busy with our lifestyle, it is very hard to get the feeling of tradition and we hardly enjoy the delicious traditional treat. So you can give your guest a traditional feel and delicious treat as a lohri return gift. You will have many traditional sweets baskets from online stores and all the sweets baskets are affordable and they are attractive-looking sweet baskets and all are handcrafted and uniquely designed.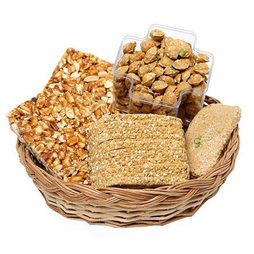 You can even send this gift online to India from anywhere with the same day gifts delivery in India. If you want to wish someone Happy Lohri then also you can choose any gift.
You Might Also Like:
Best Lohri and Makar Sankranti Gift Ideas for Couples