Giving a well thought and emotional anniversary gift is a form of art. While few people are adept at sending meaningful and personalized gifts, others may view it as a challenging task to decide what they should send. You need to put a lot of effort and thought into buying anniversary gifts so that they reflect that you truly know and care for your dear ones. The choice of gift and even the manner in which you present it will be an communicate your deep feelings. Anniversary gifts will help to boost the fun and spirit of their journey.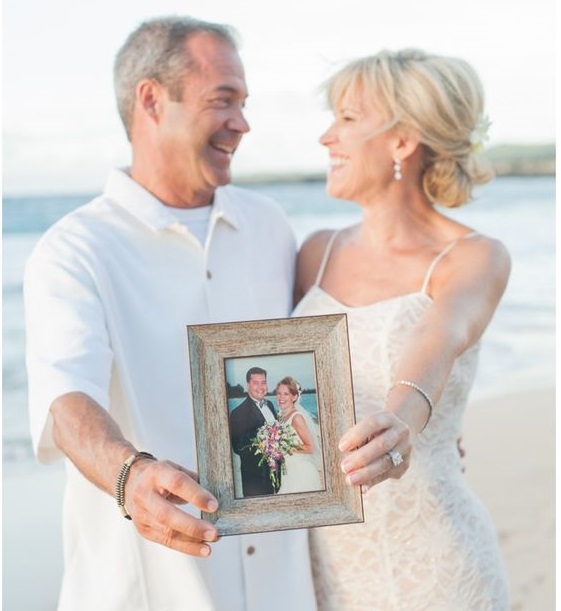 Shower love and affection as you choose the best anniversary gifts for your parents. Congratulate them on their journey by sending a lovely card with an emotional message or giving a bouquet of fresh flowers. This is one of the few ways to bring a smile to their face. Their long years of married life are definitely worth celebrating. Select an anniversary gift keeping in mind their interests and inclinations.
Looking for a thrilling and mind-blowing anniversary present for your parents? At Indiagift.in there is a gamut of remarkable anniversary gift ideas that will show your love and affection for them. On this special day, send impressive anniversary gifts to parents and express the true spirit of emotional bonding and heartfelt thankfulness.
Wonderful Anniversary Gift Ideas include:
Couple travel plan
What better than to plan a short and sweet trip for your parents? You can get the hotel bookings in advance and send them on a romantic honeymoon trip. They would have the best opportunity to recreate the past and have nostalgic memories of the years spent together. Send them to the hill or beach destination as per their preference. Book a suite in a hotel for them with a spa where they can spend their weekend together. You can arrange a luxurious candle-night dinner, aromatic therapies, a boat trip, or any other activities for them that will elate and cheer them
Attractive couple Pendant
Everyone loves to wear an eye-catching and trendy pendant. Tried-and-tested anniversary gift ideas for parents include couple pendants with a memorable couple photo. You can personalize it with an engraved wedding date on the back of the pendant. Such an anniversary gift is ideal for a romantic and loving couple. Select a stylish design that is apt for the parents and reflects their affectionate relationship. It would be best if the pendants are designed on modern lines with their initials so that they could be worn on a regular basis.
Cake, chocolates, and wine
A token gift for an anniversary is an attractively packed hamper that includes an anniversary card with a meaningful message, chocolates, a home-baked cake, and a wine bottle.  Make it a surprise anniversary gift for your parents at dinner. Cut the cake together and click pictures to capture these precious moments for the coming times. You can also invite close relatives and friends that can be a part of this sumptuous dinner at home. This gesture will definitely warm their hearts and bring smiles.
Customized Family album
Other ideal Anniversary Gift Ideas for Parents include a beautiful photo album with photos of the important events from their life for example colorful pictures of when they got married or when their children were born their birthdays and other important events in the journey of life. You can also add loving poems romantic couplets, and meaningful quotes about marriage in between the photos.  Customize the family album with the help of a professional designer. You can select their favorite colors so that this album is a reflection of their personality and taste. Such anniversary gifts can become a family treasure  that  will be cherished by future generations
Self-growing compact indoor garden
If your parents have gardening as their passion or hobby but do not have the required outdoor space, then this anniversary gift will be valued and appreciated. Self-growing indoor smart garden initially has complimentary plant pods. This modern system provides the right amount of water and light for the plants to grow  Thus, they can grow fresh fruits and veggies such as cherry tomatoes, basil, etc without exerting, and that also in no time.
Music Speakers
Are you looking for anniversary gift ideas for parents who adore music?  Purchase speakers that can be connected to their smartphone so that they can have access to their most loved songs with a click. Customize this speaker with a special anniversary message written on the package with a bouquet of fresh blooms.
Personalized couple mug set
An attractive mug set with their initials or names can written on them will always be etched in their memory. Mugs make one of the most practical and useful anniversary gifts that your parents will reach for every time. Upgrade their breakfast in bed or evening coffee with these nostalgic couple's mugs. Have them personalized with an inspired design featuring their anniversary date.
Send Anniversary Gifts for Parents to ardently express how much you adore them.  Now you can bring happiness and affection to your parents by sending sentimental Anniversary gifts through Indiagift.
Now you do not have to fret even if you are living far from your parents but want to cherish and celebrate their precious moments on this special day. You can send exceptional anniversary gifts through the reputed portal of Indiagift.