Raksha Bandhan is primarily recognized as a holiday commemorating the brother-sister relationship of love, care, and respect. However, there is a current tendency in the celebration where a lady (nanand) ties a rakhi to another woman (bhabhi, or brother's wife). And so this rakhi is named Lumba rakhi, and it's elegant and colorful.
Our brothers and sisters-in-marital law's relationship is strengthened by the Bhai and bhabhi rakhi, which is commonly known as the bhaiya and bhabhi rakhi. Furthermore, the custom of tying this bhaiya and bhabhi rakhi safeguards other important parts of life.
Marwari and Rajasthani ladies have a practice of tying a Lumba rakhi around their sister-in-law's wrist. This custom is based on the legend that now the brother's wife is accountable for his well-being. Therefore the sister gives a rakhi to her sister-in-law, wishing her well as well. Get her designer rakhi online.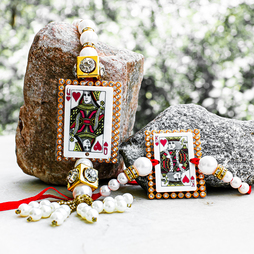 Following the event of Raksha Bandhan, Indian ladies, particularly married women, are frequently seen with rakhis swinging from their bangles. Lumba Rakhis are a specific form of Rakhi that is designated for your sister-in-law. Here on the occasion of Rakhi, whenever women tie the Rakhi thread around their brothers' wrists, they traditionally give these rakhis to their sisters-in-law or Bhabhis. This tradition improves the link between brother and sister, as well as between brother and sister-in-law.
The practice of tying a Lumba is primarily a Marwari tradition, although it is gaining on with other cultures as well. Many unmarried sisters bind Lumba to one other as a symbol of kinship these days.  The ritual of tying a Lumba Rakhi for bhabhi, however, has a spiritual significance.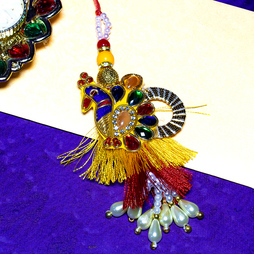 Significance of Lumba Rakhi
In India, joint families have been the norm, and also the Marwari community still likes to live in them. Such tradition aids in the nurturing and enhancement of family bonds. Whenever you tie a Lumba rakhi to your brother's wife, you reinforce only your brother's and sister-in-law's bond. What's more, you could now purchase rakhis and designer Lumba rakhi online with a mouse click. You can gift online pearl rakhi with same-day rakhi delivery or mid night gifts delivery for this occasion.
The Ardhangini, or half of a man's body, is considered a wife. Whenever your brother marries, no rites are complete without the presence of his wife. Without his wife, a married man cannot participate in any puja or ritual. Rakhi requires your sister-in-law to participate in the Puja and Aarti rituals. The requirement of tying a Lumba on Bhabhi's bangles arises from this.
When you thread the Lumba rakhi around the bangles of your brother's wife, you are wishing her a happy married life. The value of security in a marriage cannot be overstated. In a marriage, both material and emotional stability are required. The reliance factor increases much more when women are not self-sufficient. It provides a more secure relationship between your bhabhi and your bhaiya by binding a lumba. She also integrates herself into her new family.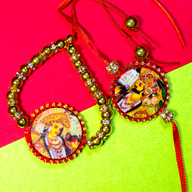 Lumba Rakhi tying strengthens the bond between family members. This tradition is a boon to joint families since on the day of Raksha Bandhan, this beautiful Rakhi keeps the entire family united in love and unity.
Lumba Rakhi also aids in the security of married couples' marriages. Tying a Lumba Rakhi denotes a healthy and happy married life since it represents love and commitment. This wonderful and auspicious Lumba tradition is not new; it dates back centuries and provides emotional support to newly married couples.
The ritual of tying Lumba Rakhi carries significance in Ardhangini's life, in addition to strengthening the family link and making married life blissful and cheerful. This signifies that half of a man's body is devoted to women's lives and reflects their lives. According to Hindu traditions, the wife would become a part of her husband upon marriage, as well as the Lumba Rakhi symbolizes her entire acceptance into the new family.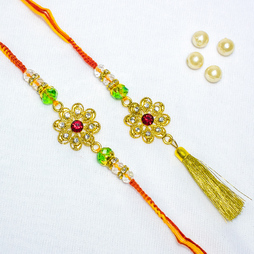 Conclusion
Rakhi is a plea to strengthen your sister-in-marriage laws and bring domestic pleasure to the pair. If you can assist with this by just tying a Lumba around your bhabhi's wrists, you must do so to make her feel more accepted in the family and also to make a fantastic friend in the process.
You Might Also Like: