Perhaps the most difficult people to choose gifts for, are the ones who are the closest to your heart. Also, you can't help but feel that none of the traditional gifts holds a candle to the feelings you wish to express to them on special days, especially when it's your best friend. As your best friend is the one person who knows your good and bad side and chooses to stay through both thick and thin, they deserve the most exquisite, one of a kind present which will communicate to them your very soul. For the intimacy that permeates your relationship, personalised gifts are the way to go, as you need to go the extra mile to show that you care for them and are grateful for their presence in your life. With your friendship lasting a lifetime, you have a pretty good idea about their likes and dislikes and personalised gifts are one presents which can accustom their whacky and crazy personality. Therefore, to inspire you towards this good deeds, these personalised gift ideas for best friend are there to scour and buy the ones which catch your eye.
1. Personalized gift basket for multiple purposes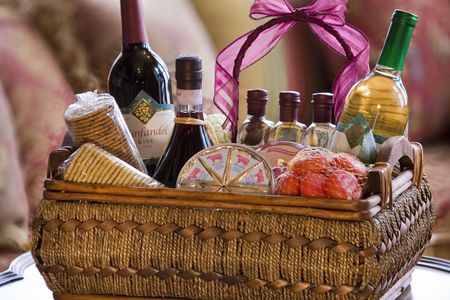 Your bestie is a special person because they accept your faults and still decide to stay by your side fluctuating between your listening ear, shoulder to cry upon, as well as, being a permanent fixture to all your outings and events. Fulfilling multiple roles in your life, your best friend needs a multipurpose gift which they can cherish in more than one ways. Therefore, a personalised gifts basket serves multiple purposes which he/she will simply adore and utilize. Also, you can personally have it customized by including anything from eatables, bath products, healthcare products, makeup products, and tech items, etc.
2. Customized jewelry to customize your love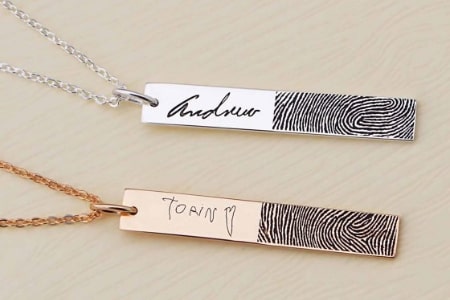 Jewelry pieces are meant to be precious even if they are not expensive as they symbolize a more concrete emotion which you can not only see and feel good about, but also wear it as a token of love. You can customize jewelry items like pendants, dog tail lockets, and bracelets for your best friend with a short message or their monogram engraved on it too. This special piece of jewelry will be very close to their heart and not just because of its material worth but also because of the trouble you went to have these gift items customized to suit their personality. A personalized jewelry item is a perfect choice among customized gifts to dazzle your best friend on their special day.
3. Framed memories to tell your story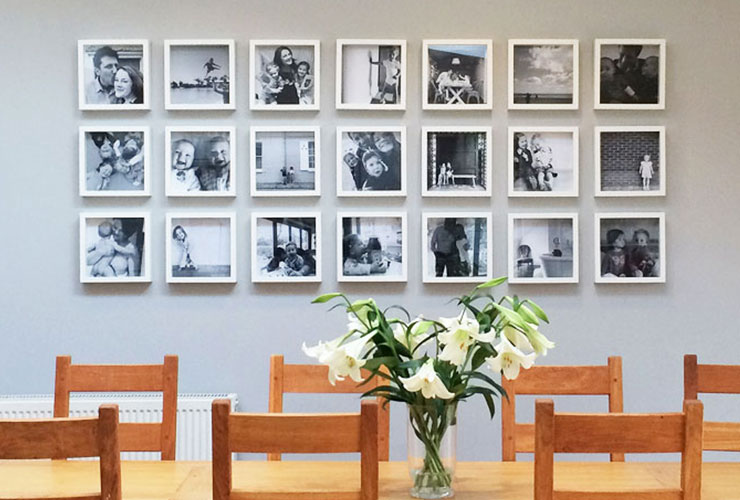 They say a picture says a thousand words, and thousands of pictures scattered around your house with your best friend is a testament to the fact. Those close-ups taken over the years tell a story which is yet to reach its climax but has thousands of instances of love and sacrifice featuring you both. To preserve those memories which makes your friendship an eternal one, get them framed with personalized frames and gift it your special person.
4. Matching tees to declare your exclusive friendship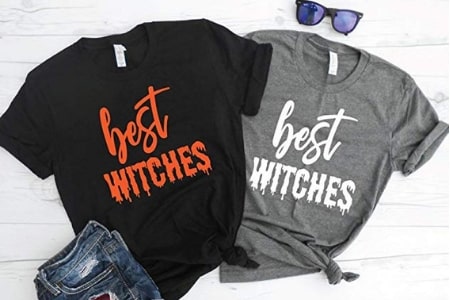 Tees are comfort wear which you can wear casually with your pajamas and even with a jacket and pants for a semi-casual look. Treat your best friend and yourself with matching tees to show to the world your exemplary friendship both literally and metaphorically. These matching tees are a wonderful gift and a gag joke which your bestie can't help but love. You can include quotes like 'thing 1, thing 2', infinity symbol with BFF quotes, and other quirkier things for a fun and playful gift which you both would love to step out with.
5. Personalised mug for happy mornings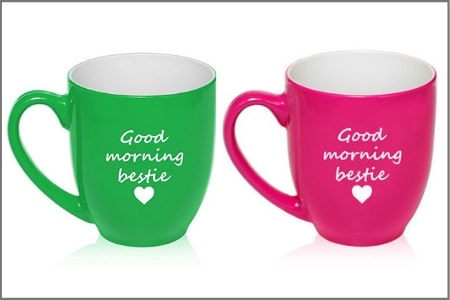 Everybody loves a good cup of coffee and when you have personalised mugs to go with it, it's nothing short of therapeutic. Knowing your best friend, coffee is their one weakness so play it on by customizing personalised mugs for them to brew their perfect cup. You can have movie quotes, motivational lines, and funny memes and even pictures printed on the front to put a smile on their face when they think about your gift and you. Also, you can make sure to surprise them with personalised magic mugs which are a wonder to behold. Whenever you fill the mugs with warm liquid their picture appears and fades away when it cools off, this surreal trick will certainly blow off their mind when you gift this magic mug online.
6. Bath Kit for a relaxing evening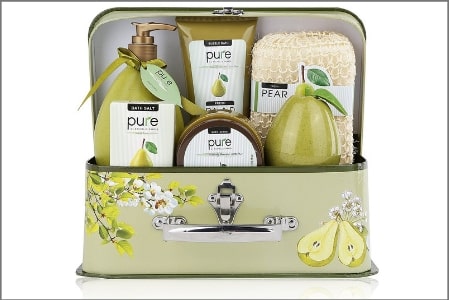 In the usual humdrum of life, it's easy to get lost and your best friend is no stranger to the chaos and fatigue that is common to every person in modern society. To help them relax and let loose bath kits are the perfect personalised gift ideas for best friend containing scented candles, fragranced soap, bath bombs, essential oils and many other wonderful surprises which they would love to immerse them in. Bath lids can be customized to personally appeal to your bestie with different products and fragrances which they will come to love.
7. Personalised photo lamp to make their world brighter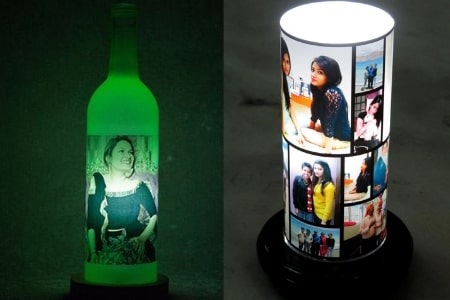 Lamps are indispensable items which also serve home decor purposes. To show your best buddy their relevance in your life and your gratefulness for their mere presence which lights up your day and pierces through all the negativity, a personalized photo lamp is an apt gift. These lamps contain your buddy's photo in front and will remind them of the happy memories you both shared whenever they switch it on. Therefore, a personalised photo lamp is a perfect gift to delight your best friend. These lamps come in some interesting shapes like cube, oval, crystal and hexagonal shape.
8. Journal to pen down wayward and profound thoughts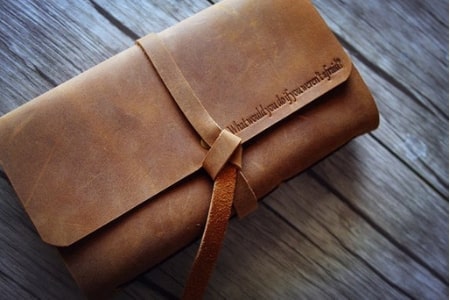 To help your bestie pen down their thoughts, a leather-bound journal with their names engraved in gold is a fantastic gift. As your friend jots down stuff won't it be fun to be transported from their heart and mind to paper itself especially in a journal that was gifted by you?
9. A personalised pillow for the perfect headrest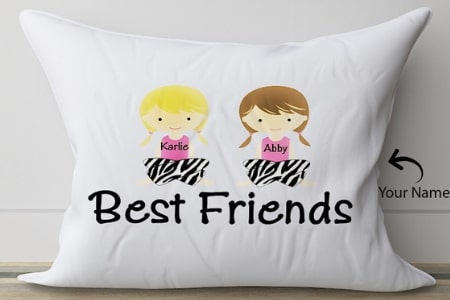 Personalized pillows serve home decor function beside the obvious ones as a headrest. You can gift your best friend personalized pillows containing their picture or some sappy and funny quote which they can use to adorn their homes. A personalized pillow in bright or muted color will work wonders for their house and make it feel more like a home.
10. Personalised fragrance to spread the love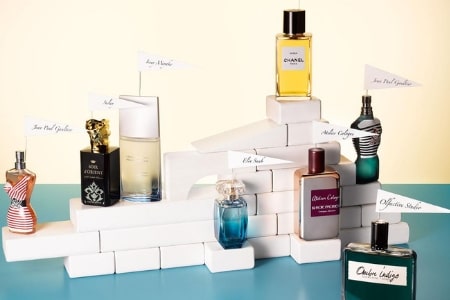 Who doesn't love a unique scent and even celebrity stars are not immune to the idea of personal fragrance, as you see them selling their own brand of fragrance. You too can make your best friend feel special with a personalised perfume bottle whose fragrance matches their very personality. To have a customized scent bottle made for your best friend you can visit the perfumer who will prepare it to match the personality of your bestie.
11. Gift cards and shopping spree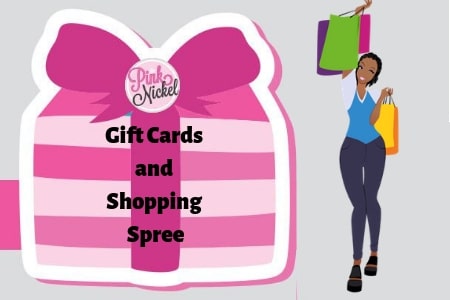 Gift cards are the new trendy gift which is all the hype these days. These gift cards can pertain to the apparel stores, shoe stores, salons, spas and online gift stores which your best friend will love going to. A shopping spree with your personalized gift card which can be customized with a special message from you is the thing your friend needs to indulge in and enjoy. This generous gift not only helps them buy things or stuff which they had their eyes on for a long time but have a good 'me' time simultaneously.
12. Personalised photo Snow globe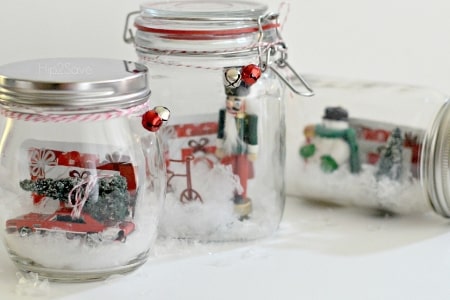 Snow globes are a unique and sentimental present which your best friend will come to love. Personalized snow globes are like normal snow globes but contain pictures and certain elements which matches your friend's personality. To order a personalised snow globe customize your order with online gifting stores who have hundreds of similar products and more.
13. DIY gifts and greeting cards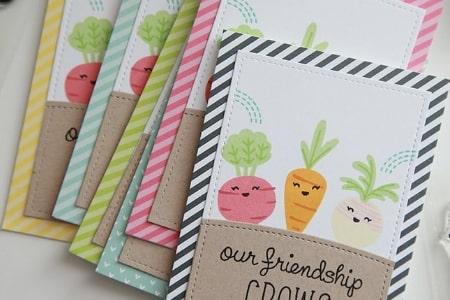 Your artistic talents although few will come in handy when you utilize it to make a DIY gift for your best friend. It could be anything from a DIY greeting card, pen stands or some other knickknack your friend won't be able to resist seeing the genuine efforts you put in making them something special from the heart. Also, you can brush up your skills although meager reminding your friend about those childhood days of glitter, paint, and pencil which brought you together.
14. Photo album to track the long journey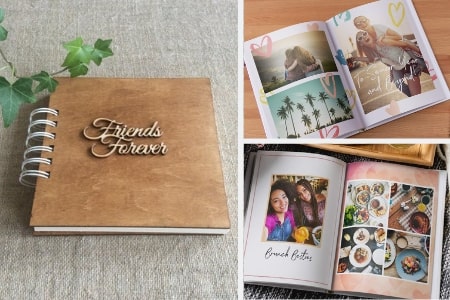 To track your journey together a photo album will be an amalgamation of those times which made your relations stand strong against the sands of time. So stack all your photos together in an album and gift it your best friend which they will treasure forever. You can even make a collage or a video clip to record all those wonderful memories with your dearest person.
15. The gift of time
The gift of time is perhaps the most exquisite of all the presents you can give to your best friend. While all the other gifts are a physical manifestation of your love, spending time with your best friend pars all. You can plan a shopping trip, a hike or an adventure day or just laze around in a park, spending a few hours away from everything and everyone else to revive and rejuvenate you. Some, one on one time with your best friend certainly tops the list of personalised gift ideas for best friend.