Are you planning for a romantic wedding anniversary? Do you really wonder about how to surprise your dear one on the wedding day? There are plenty of possible ways and a variety of gifts that can make the anniversary really special. You can visit the nearest gift store and find the most exclusive gift that can make your dear one feel special. Well, what would be the alternative if you are somewhere due to work?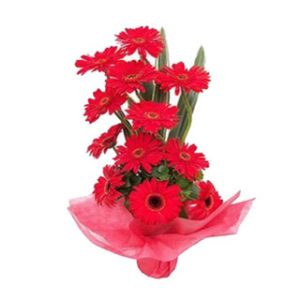 Order this flowers from here – https://www.indiagift.in/red-gerbera-arrangement-ig-412
What could you do if time doesn't favors you to travel? Don't worry, internet can do all the magic for you. With the online gift portals, you can find a variety of gifts online. Girls always fall in love on flowers, particularly those bunch of roses that looks vibrant and brings in the magical vibes. Opt for the online flowers delivery, which can help you to send flowers on the wedding day. No matter if you want to send flowers to Delhi or Mumbai, because internet can help you to send flowers to India, regardless to the location you prefer. You can send online gifts anywhere in India without any hassle.
Send Flowers to India for Any Occasion –
Flowers for wedding anniversary is very special as they can bring the smile and joy. Moreover it remains as the symbol of love and romance, which is much connected on a wedding day. This is why many people prefer flowers for wedding anniversary. Flowers are the perfect gift to anyone on their wedding day, either it is your friend or family people or parents or whomsoever it may. Flowers can make everyone smile and bring joy on each of us face. Flowers are closely connected to the mind and heart which can trigger the joy of enlightenment. Why choose online flowers delivery? The reason is so simple: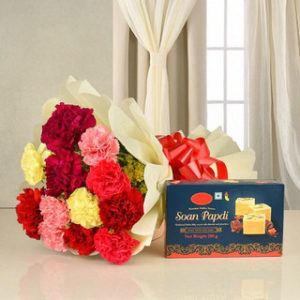 Order this flowers from here – https://www.indiagift.in/mixed-carnation-with-soan-papdi-ig-4229
Online Flowers Delivery with Same Day Delivery :-
You can send flowers to India, right from anywhere. This is just going to be very simple as it takes a couple of click through. Without gazing around anywhere and without any perplexed mind or thoughts, you can quickly place your orders online.
When you plan to send anniversary flowers in India, your choice and solution becomes very simple and convenient. With the many different online gifting portals, you can opt for the online flowers delivery and surprise your loved ones. All you have to do is, pick the website, place your order, choose the date and time to deliver them, while it would quickly reach the recipient on time. Its ultimate and of course a romantic surprise to the receiver as well.
When you consider online flowers delivery, it shows how strong your long distance relationship is! You can express your love and bonding to your soulmate or loved ones effectively well. Flowers can bring abundant joy and smile away from borders, even if you are far apart.
Order this flowers from here – https://www.indiagift.in/fifty-fifty-love-rose-bouquet-ig-3485
Either you want order flowers in Delhi, or you wish to order flowers in Mumbai, you can effortlessly do it with the support of internet. Indiagift is one of the best online gifting portal that allows you to send wedding anniversary flowers in India. Through this gifting portal, you can send gifts anywhere in India at very affordable pricing. Try it and of course you will feel it great!
You Might Also Like