Diwali brings to mind visions of dazzling lights, beautiful diyas, and delectable foods. To make your house the buzz of the neighbourhood this holiday season, below are placed together some fantastic Diwali Party Decoration Ideas.
DIY Paper Rangoli Lanterns
Check out some DIY tutorials online that will teach you how to create these beautiful rice paper Diwali Lanterns at home when you have some free time. You might try adorning the four surfaces utilizing hand-drawn rangolis or diyas for such a Diwali theme.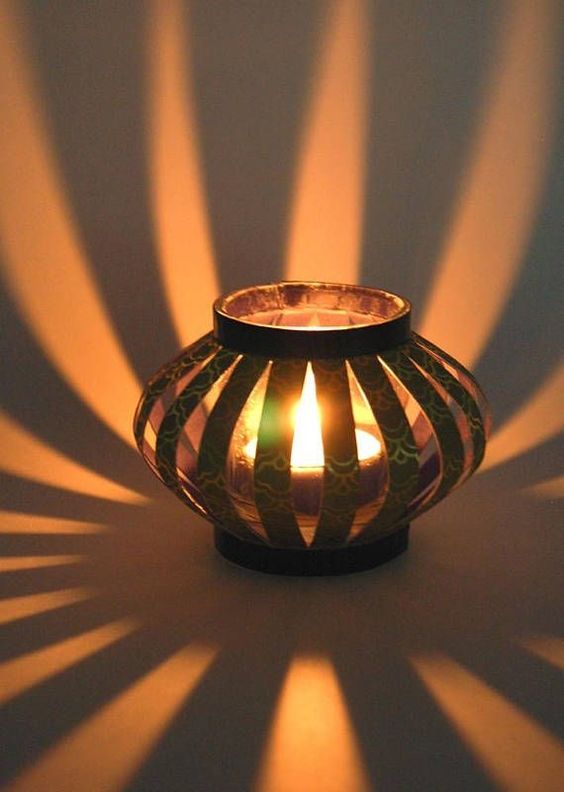 Painting their diyas would be a unique and entertaining activity that the younger guests can take part in! Have several basic mud diyas on hand, as well as a kit for decorating them with various colours, brushes, glue, glitter, and mirrors. At the finale, the diya with the most artistic decoration will receive a reward. A Diwali Puja thali can also be DIY'd using your creativity.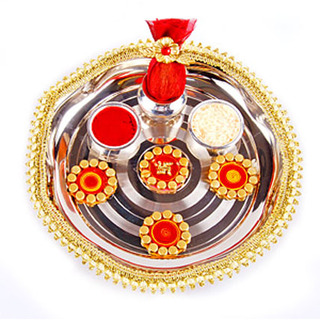 Use marigold streamers to establish the theme
A streamer of vivid yellow as well as orange marigolds at the entrance is a great way to greet your guest's home because marigolds are regarded as auspicious flowers.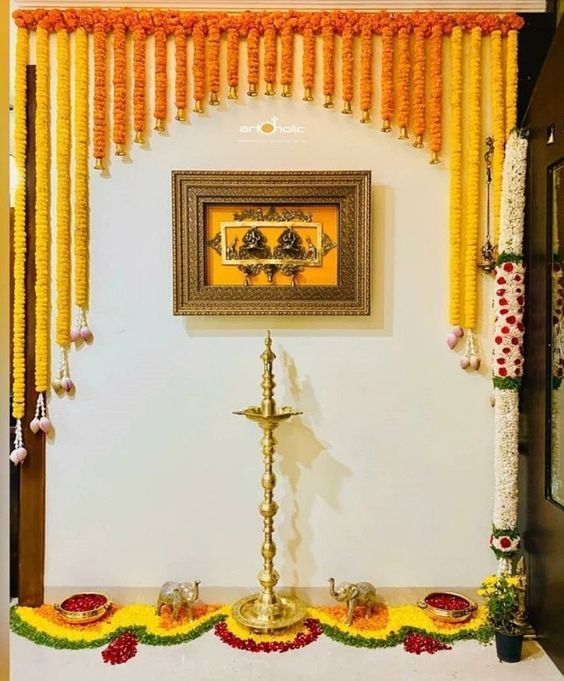 Utilize floating flowers to decorate
The contents of this ceramic urn are floating flower petals. Make a stunning centrepiece for your living room by surrounding this gorgeous ensemble with a series of tiny clay diyas.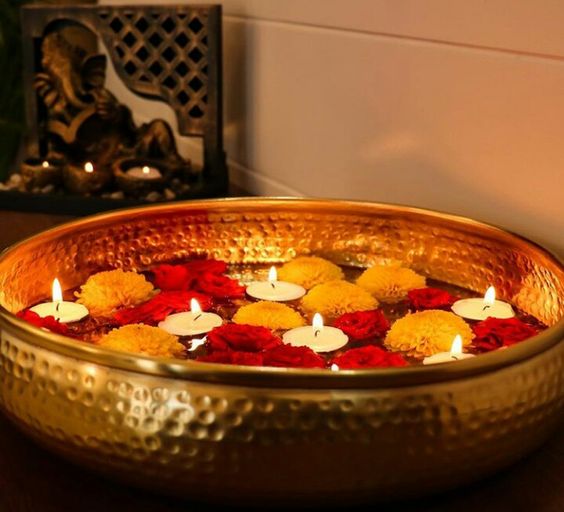 Marigold Rangolis, with a centrepiece of a diya
Another wonderful decoration idea is a floral rangoli, which is also very easy to construct. Make a lovely floral rangoli with any leftover marigolds in a toran at the doorway. In the middle, decorate it with Diwali Diyas in vibrant colours.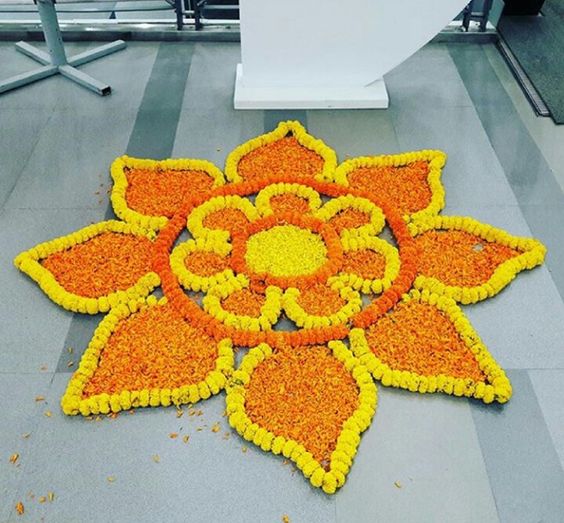 Use candles to say it
The smallest glass votive holders for tea light candles can create a dazzling sparkle in any space. These holders are surrounded by miniature globes made of glue and stung.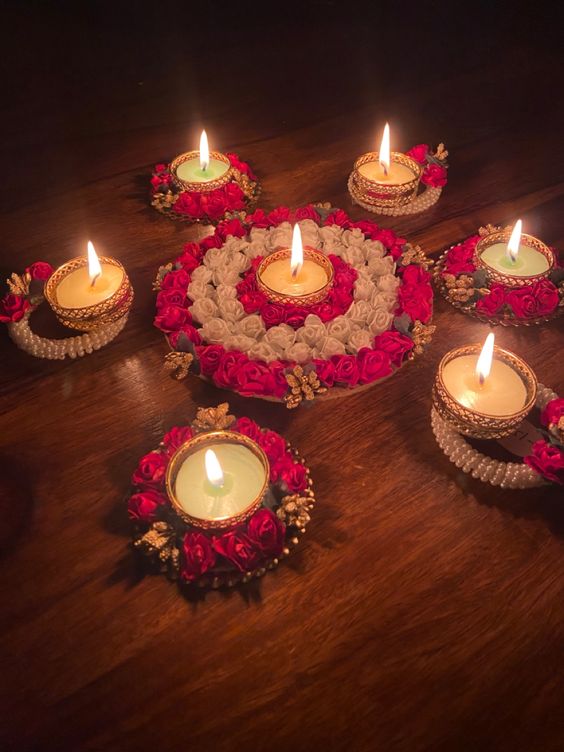 A string of Best Wishes!
You must have gotten a tonne of cards for Diwali! Display the cards on a string that can pass through one of the walls of your party space to thank your guests. To prevent them from falling off, make sure to tie them firmly with clothes pegs.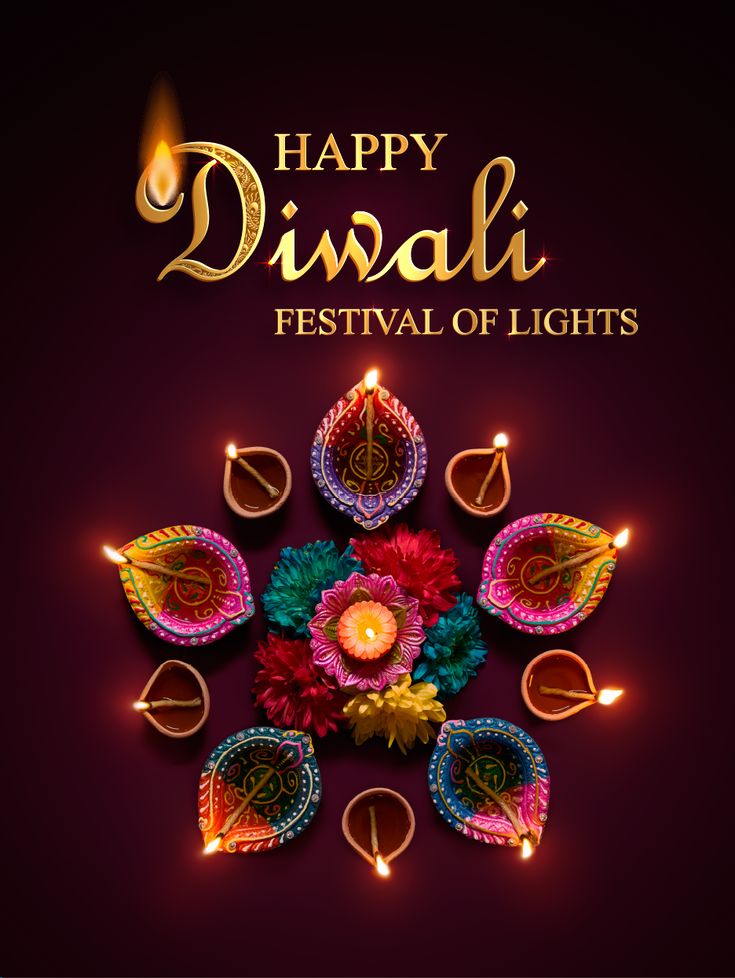 Don't Toss Away That Mason Jar Away!
A string of fairy lights may be put into a mason jar to transform it into a sparkling miniature lamp. That is as beautiful as it gets right now!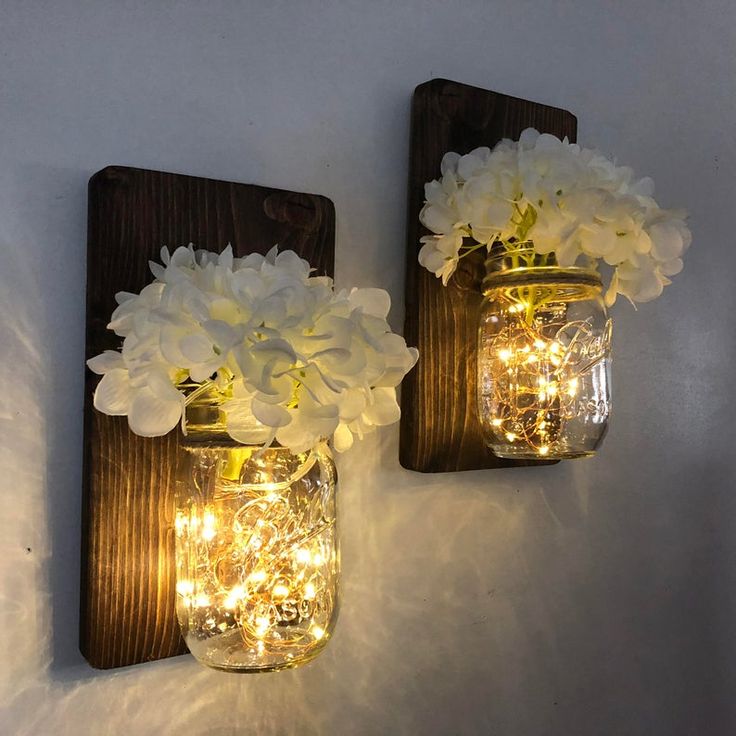 Rangolis for Prosperity
We cannot get enough good luck, yet rangoli designs are thought to bring it! Rangolis, regardless of whether they're made with coloured powders or rice paste, create a festive feel.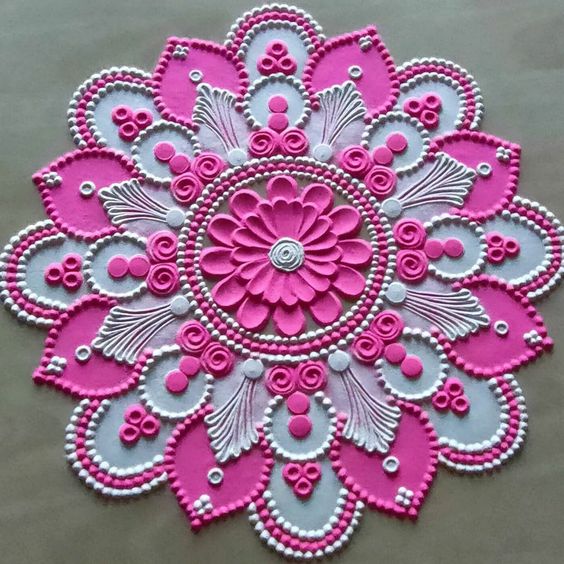 Remember To Bring Balloons!
A mainstay of any party balloons. Take a handful of balloons that are metallic and glittering, then raise them to the ceiling. A note of caution though: because you will undoubtedly have candles as well as diyas about during Diwali, make sure that none of them contains helium, which could cause a fire.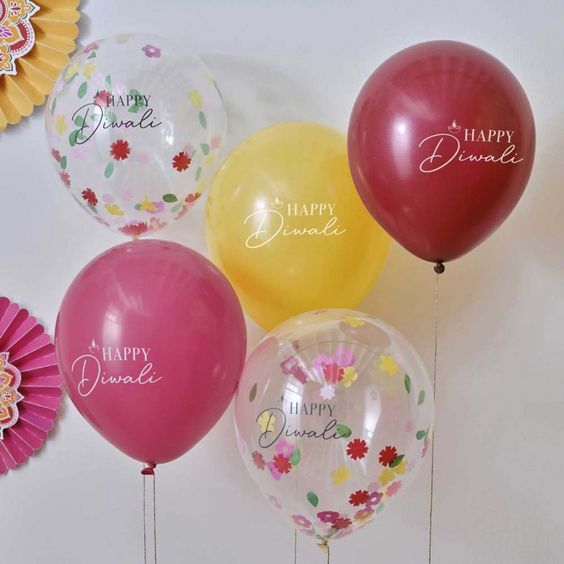 Decoration Mandalas
Mandalas are a symbol of the mind-body-soul connection and can be utilised as festival decorations during Diwali. Prepare your scissors and cut out some Mandalas. To further the traditional appearance of the space, string them up or hang them from the ceiling.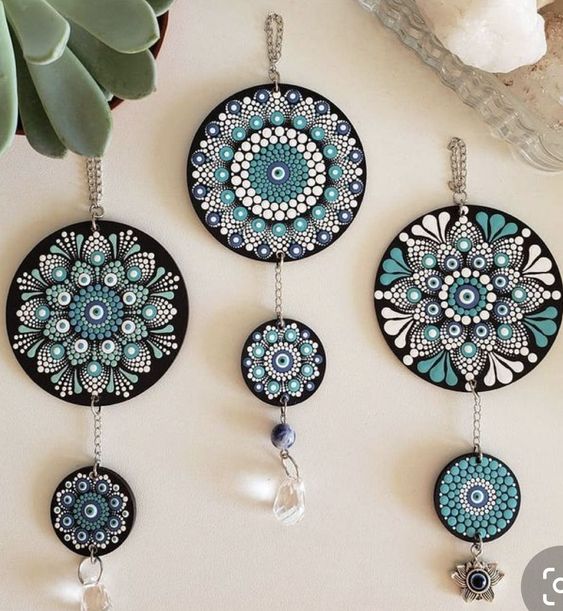 Rice Paper Globe Lanterns
A row of colourful Japanese lanterns, which are easily found in home décor stores, can up the party drama on your terrace or garden.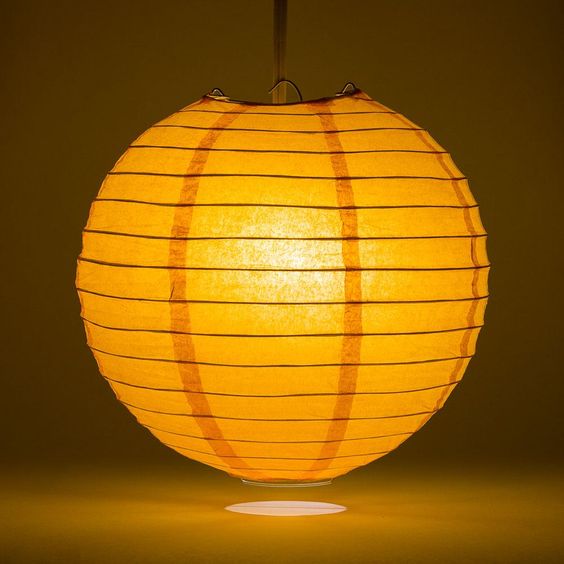 Edison Lights
This deck looks fantastic lighted up with bare Edison bulbs scattered throughout bunches of greenery. All glitter, all the time. They make the best Diwali Lamps.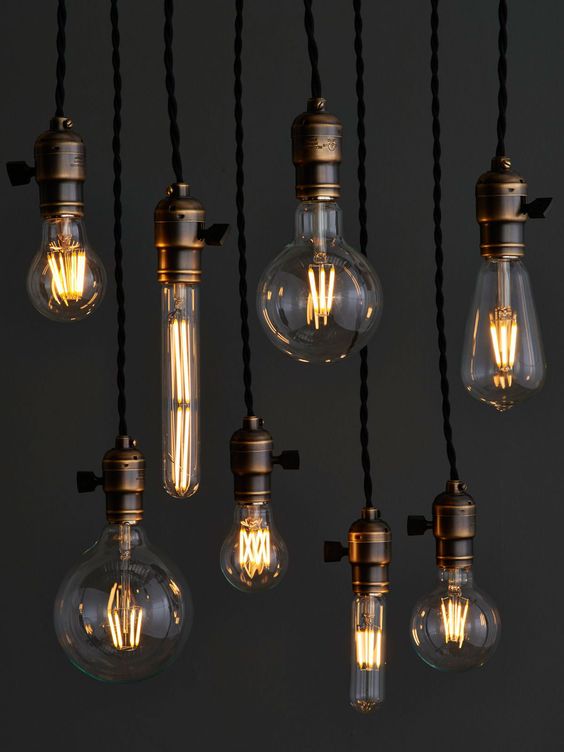 DIY String Balls
You could find several DIY videos online that demonstrate simple methods for creating these gorgeous little yarn balls. All you require is a few balloons, glue, plus bits of coloured yarn. For a one-of-a-kind, homemade party décor idea, place them at varying heights and wrap some coloured lights over them.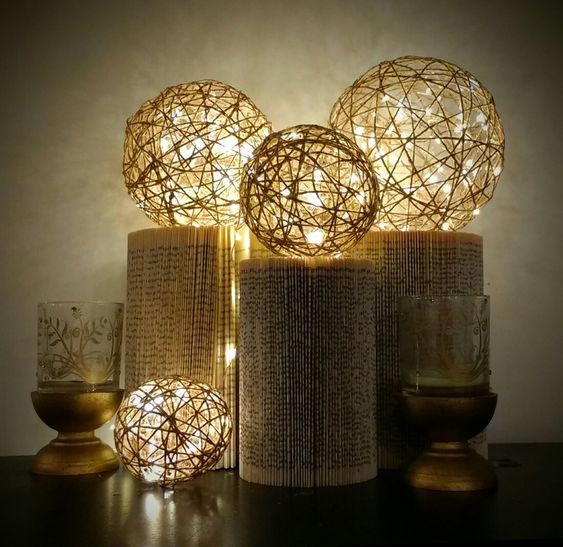 Improve the decor in the living room
Adding some ethnic cushions, drapes, or rugs to the living room's décor is the simplest way to liven it up. All the glitz your party needs can be added with a little silver or gold!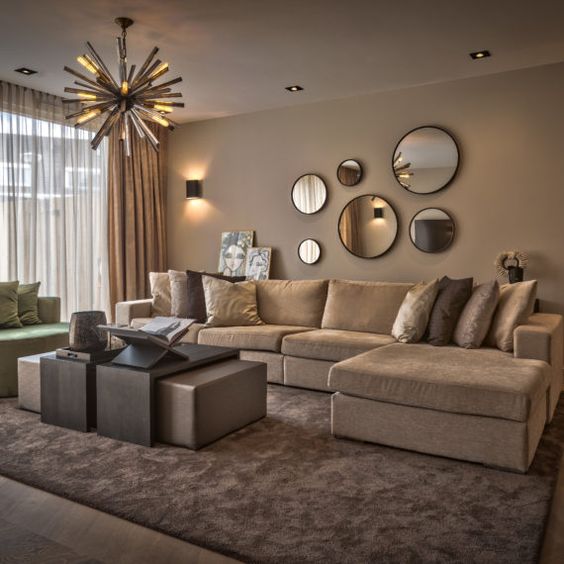 Flower Screens at the Entry doorway
Greeting your visitors with fragrant floral screens! The sidewalk leading up to your door can be lined with attractively decorated flower strands.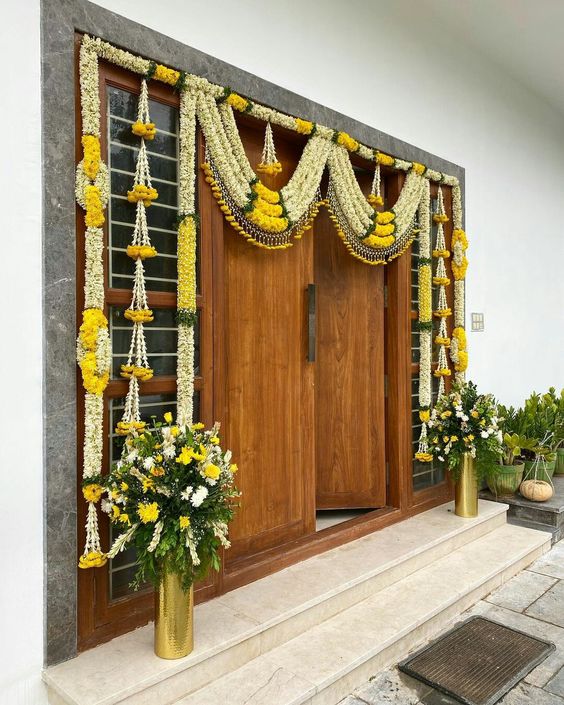 Decorations for the Festival of Lights's tables
With a variety of candles in lovely holders of all different sizes and shapes at every table setting, the table décor could mirror the subject of the festival of lights.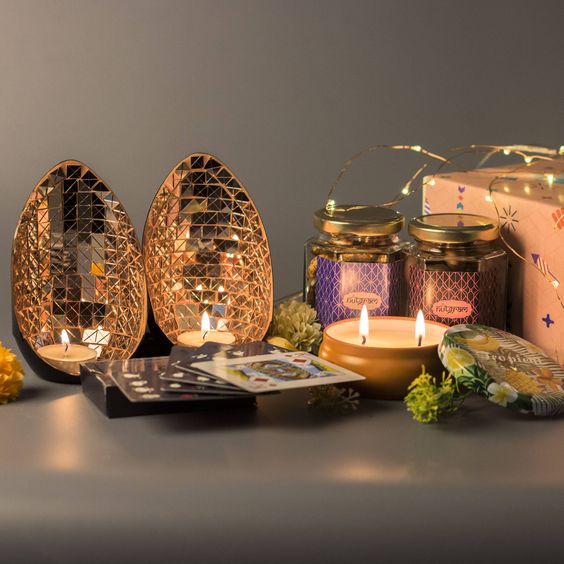 Remember To Include Return Gifts
Make sure to send your visitors home with some inventive sweet boxes along with all of the wonderful memories they will undoubtedly bring back with them. By personalising them yourself, you could give them a more unique touch. Purchase plain, rectangular boxes in solid colours, and add gold foil plus glitter to the borders. Ganesha makes the best Diwali Idols.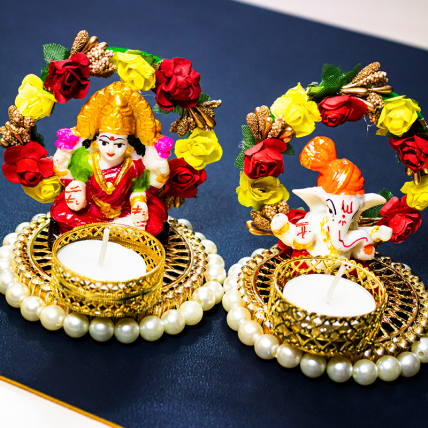 Conclusion
The ideal way to celebrate the festival of lights with your family and friends is at a Diwali party.  Let's hope that our décor suggestions have motivated you to throw a memorable Diwali party at your house! Above are some Diwali Premium Gifts for your friends and family.