Exciting and Fun Birthday Gift Ideas for Your Husband
Have you ever thought about what to give to your husband for his birthday this year? We know you must be having a shortage of ideas as you have already given him a few gifts like cufflinks set, perfumes, watches, ties set, etc on various occasions. We know planning a birthday surprise for a husband will be really hard but you can make his birthday exciting and interesting by gifting some amazing gifts. So here are listing a few birthday gifts idea for husbands which you can place your order for online gifts from any online gifting store. All these gifts are thoughtful and useful and he will love them.
Sunglasses: A good pair of sunglasses is what every man needs and wants. You can buy classic aviators for men. It will perfectly go with the outfit and it will give him a stylish look. You can buy sunglasses from any online gifting store or you can send birthday gifts online with the same day gifts delivery these sunglasses will be a perfect birthday gift for him and also it will enhance his style.
Wallet: Every man needs a wallet where he can keep all their cards and cash whenever he will go out. So a wallet will be an amazing option. You can give him some premium quality of the wallet. These premium wallets have classy and elegant designs. And wallets are more secure because they have RFID technology in them. This technology gives protection to our personal information from theft. You can choose Manhattan Wallet because this wallet comes in different colors and ranges. These men's wallets are designed in Britain and made with premium Italian leather. This wallet is the perfect combination of elegance, comfort, and convenience.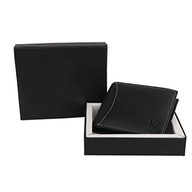 Charging Hub: We all know men are not in the habit of organizing things because their lives are very busy. So for all the busy men, who don't stay organized and never care about phone battery and who are always having a 1% battery level for those busy men's this gadget 3-in-1 hub will be a very useful and helpful birthday gift.  This gadget helps them to get their phone fully charged and ready for use and also helps them to keep their desk organized. This gadget has a compact and stylish design. This will help your men to perfectly organize their cables. This will be a very unique and thoughtful birthday gift for him. We are sure your men will love it.  This mini 3-in-1 charging hub will be a very thoughtful birthday gifts for the husband.
Ember Mug 2 Black 10oz: This temperature-controlled mug is an amazing gift for those who love to drink coffee.  Your husband can even set the Ember Smart Mug to any temperature they want to keep their morning beverage as warm as when they first poured it. This mug is hand-washable and can be used for up to 1 hour without the charging coaster. These personalised mugs will be a very useful gift and we are sure your husband will be impressed by your choice. He carries his preferable drink while traveling.
Bamboo Cheese Board: This will be the perfect gifting option for those who love cooking. This charcuterie board is good for lovers to prepare their meal on their own. It will help them to cook the perfect dish for their perfect home date night with this bamboo cheese board. These bamboo cheese boards are twisted and handcrafted from All-Natural, Organic, and Sustainable Moso Bamboo. This will make this board 100% food-safe, formaldehyde-free, BPA-free, with no toxins or chemicals added on these boards. These are 100% cute gifts for him online.
Canvas DoppKit: If your partner is a frequent traveler or he loves to travel then canvas dopp kit will be the right Valentine's Day gift for him. This is practically a travel kit where he can place all its toiletries, charger cords, and other daily use products whenever he will be traveling. This kit is handcrafted in Mexico. This dopp kit is made of high-end thick canvas and premium leather.  This kid is having a stylish design and also it is rugged with a heavy-duty zipper. This kit is waterproof. If the things get leaked then it will keep your clothes safe. This kit has a multi-pocket. You will get this dopp kit from any online gifting site.
 Pilo Fabric Shaver: Pilo fabric shaver is an amazing gift that you can give to anyone. This is a very useful gift. With this, you can say goodbye to sweater pills. This little gadget swiftly removes all the balled-up bits of fabrics from your sweaters, fleece pants, and also it will remove the unwanted balled-up items from the couches also. This gadget is easy to use and you will effectively remove all the unwanted items from your woolens. To check the results you need to take the before and after using the gadget picture of the cloth. It will give you immense satisfaction.
Sports Shoes: If your husband is a sports lover then he must be having their favorite player brand shoes or product. So he might want to buy those expensive shoes. So the birthday is the right time to surprise your husband with his favorite pair of sports shoes and we are sure he will love them and he will never forget it. On his day gives him a huge shock with this gift. You can surprise him at midnight by ordering online birthday gifts with the midnight cakes delivery.
Dash Cam: If you want to protect his ride then give him a dashcam. This dashcam is a tiny, reliable dash camera and it will automatically record the incident. This camera can't be noticed on your windshield because it is small. This camera has 140 degrees wide-angle and records 1080HD footage.  This camera requires an 8GB micro SD card. It will be the best birthday gift for him.
You Might Also Like: