Personalized gifts have become really popular in current times. When you give personalized mother's day gifts, it shows how much you care for your mother. It is an expression of love and attention to detail.  A personalized gift is always unique as well as meaningful. It enables you to add a special touch to your Mother's Day celebrations.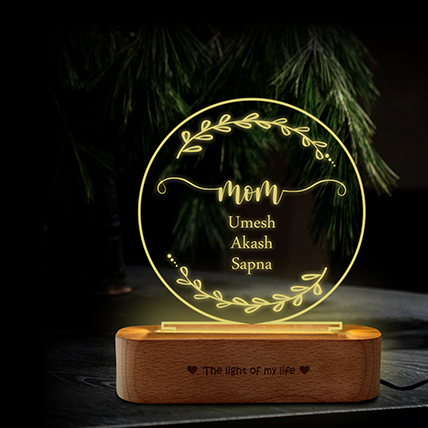 When we are choosing Mother's Day Gifts, we want to pick up something that is tailored specifically as per the interests and liking of your mother and this is only possible when we go in for a personalized gift for mom. Always make sure that you buy Mother's Day gift from a reliable and reputed online shopping website. You would not want your mother to get something shoddy or poor quality. At indiagift.in you will get fantastic Mother's Day gifts. The gifts are available in different price ranges, so you can even filter the search according to the money that you wish to spend.
With wonderful Mother's day gifts you can build memories of a lifetime. Go in for personalized gifts for your mom as this demonstrates the extra effort and thought that you have put in buying the gift. Mentioned below are some really effective mother's day gift ideas:
Photo cakes

Something sweet is always welcomed. It adds a whiff of pleasantness to your celebrations. Send your mother a photo cake on Mother's day and see her brim from ear to ear. If you do not stay close to your mother just do a video call when she cuts the cakes. This will create happy memories for you and both you and your mother will love it. Choose the cake flavor that your mother likes. These days orders for cakes can be placed from the comfort of your home and this is a wonderful Mother's Day gift idea.

Photo Album

Another personalized gift for your mother can be a photo album containing beautiful pictures of your mother and you, or from your childhood. Looking at old pictures strikes a chord in heart and when your mothers receives it as a gift on Mother's Day, she will surely be elated. It also shows the keenness on your part to pick the most endearing gift for your mom. So, buy a photo album, put in the best pictures and send it to your mother and make her feel happy.

Custom Jewelry

Everybody loves jewelry. As a matter of fact, jewelry pieces have a definite emotional and sentimental value. When you send customized jewelry to your mother on Mother's Day, she will be on cloud nine. If you cannot afford real jewelry, you can even go in for costume jewelry. There are so brands that sell initials bracelets or necklaces, etc. Pick up something delicate and elegant and send it to your mother to bring cheer to her life. Getting jewelry pieces from your daughter and son is a priceless feeling for any mother. It will create lasting memories to cherish for a lifetime.

Bouquet

If your mother is fond of flowers, then you can get a beautiful bouquet made of roses, lilies, gerberas, etc, and send it to your mother. Flowers brighten up the mood and add a zing to your life. You can even send a beautiful hand-written note with the bouquet. This is certain to make your mother feel on top of the world.


Photo Cushions

A very nice and unique Mother's Day gift idea is cushions. They are not just useful but will serve as a constant reminder to your mom of your love. You can have the picture of your parents or just your mother printed on the cushion. Even a message can be printed on the cushion. So, it all depends on what you want and that can be printed. Such different Mother's day gift ideas are very refreshing. When we open up our minds, creative thoughts come in and you should gift different things to your mother as this is an expression of appreciation for what all she has done for you in life
So, these are some very nice personalized gift ideas for Mother's Day celebrations. When you do something out of the box, it truly reflects through and this is what everyone wants on Mother's Day. Mothers spend a big part of their lives bringing up their children in the best possible way. Their love is limitless and what they can do to provide the perfect foundation for a child, nobody can do. The love of a mother can never be emulated. Therefore, as a child, it becomes our duty to just make her feel valued on this special day and this is possible with a thoughtful personalized mother's day gift.
For the best collection of Mother's Day gifts, you must check out indiagift.in. They have beautiful mother's day gift ideas. Buying from an online site is extremely advantageous in present times. From the ease of your home, you can place the orders. So, even if you and your mother are thousands of kilometers away, you can easily send a gift. Choose gifts that are soaked in your emotions and not something that you just pack in a box and send. Gifts should be an extension of our personality, of our love, and of the gratitude that we have towards our parents. So, this Mother's Day order something valuable and considerate for your mom.