Valentine's day is associated with love, romance, heart-eye emojis, cakes, flowers, etc. but the origin of valentine's day isn't exactly romantic.  Whether you celebrate 14 Feb or not the origin of this day was different from the present day. But the origin of 14 Feb is less romantic.
Valentine's Day is named after Saint Valentine, a Catholic clergyman who lived in Rome during the 3rd century B.C. the day contains the remnants of both the Christian and the ancient Roman traditions. But the history of this day and the story of its patron saint are wrapped in mystery. There are many stories about Saint Valentine and these stories evolved into the legend that we know today.
Let's Know about Saint Valentine
Saint Valentine's day was a feast day in the Catholic religion and it is added to the liturgical calendar around 500 AD. This day was celebrated to honor martyred saints named Valentine. People celebrate three different saints named Valentine or Valentinus but due to less awareness and people don't know much about these men then there was a conflict between the Saint Valentine story then the feast day was removed from the Christian liturgical calendar in 1969.
Due to less knowledge about the real history of Saint Valentine on whom the 14th Feb is based, there are several stories about Saint Valentine. Few people say Saint Valentine refused to convert to paganism and was executed by Roman Emperor Claudius II. Before his death, he mysteriously healed the daughter of a jailer who later converted to Christianity along with the family. Few people say the prelate called Saint Valentine of Terni is the true namesake of this day.
Also, there are a few stories about how saint valentine is affiliated to this day. Saint Valentine was a Roman priest who performed weddings ceremonies for soldiers who were banned to marry because of a roman emperor decree marrying soldiers and he said married soldiers do not become good warriors that is why many young men could not marry. So the saint valentine wore a ring with a cupid and he represented love and he helped many soldiers to get married and soldiers recognize him as a symbol of love. He handed the paper hearts to Christians for their love to God. That is why St. valentine knew as the patron saint of love. In the prayers, saint valentine asks god to connect lovers together so that the two souls become one and the couple will remember their devotion.
So the saint valentine story set the groundwork for establishing the romantic day and it solidified the connection between saint valentine and love.
How did Valentine's Day got linked with love?
The poet Geoffrey Chaucer, author of 'The Canterbury Tales', who lived during the Middle Ages was the first person who linked St Valentine with romantic love. He was the first person who started the tradition of refined love and he started the ritual of expressing love and its approval, before that it was done secretly. This custom about love spread throughout Europe.
In older times people sent love messages gradually but now it has been developed by different centuries of people in the form of special cards by sending these special cards they express their love and affection. These cards were beautiful creations handmade by the sender and individually designed to show how much they loved the recipient. Cards contain the sentiment of the sender and the beauty of the receiver and express how much they loved each other.
But in the 19th century, your love expression can be expressed in the form of pre-printed cards and spending exorbitant amounts of money on valentine's day gifts.
There are a few bad stories about the 14 Feb. In Chicago 1929 seven men were killed by a gang which was organized by AI Capone. This valentine's day murder became a flashpoint in history. After the tragedy, the police and lawmakers went after the gang and mobs to control the illegal activities in the city.
Significance of this day
Nowadays Valentine's Day is celebrated in a variety of ways. This day is celebrated in different countries, cultures according to their own traditions around this day. In a few countries, Valentine's Day is observed as a day admitting their love towards their family members and friends, and in other countries, this is celebrated as a love day. Every country is having its different traditions like people celebrate this day by gifting wooden spoons and in a few countries traditions of gifting heart-shaped candies, chocolates, cakes and some consider this day as appreciation day of friends. In this modern era, social media has made Valentine's Day more popular and toxic.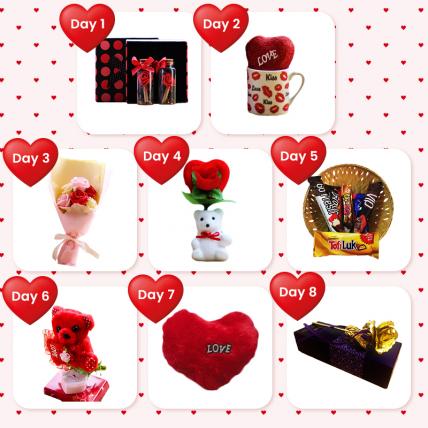 You Might Also Like: