Audrey Hepburn once said that "A nice creamy chocolate cake does for me what if does for other people" and what chocolate cake does for other people is that, it satisfies not only the taste buds but also the soul. Thus, a chocolate cake is one of the best creation that makes you feel a lot better about the world as you feel the creamy texture overwhelm your senses with the insatiable decadent taste. Perfect for when you send birthday cakes to India or an anniversary gift or even as a random midnight snack, chocolate cakes are just irresistible for both young and old. While many may argue for chocolate being the main ingredient, it's actually, love, which makes it taste wonderful.
With different textures, types, and designs, chocolate cakes are the classic celebratory dish that never goes out of style as you send cakes online. Thus, to satisfy your craving for chocolate cake when you can't be bothered to buy it or cater as your back-up plan on a special occasion, this version of the very basic recipe of a chocolate cake will transform your mediocre baking skills to a skilled chocolate cake craftier.
Chocolate Cake Ingredients :-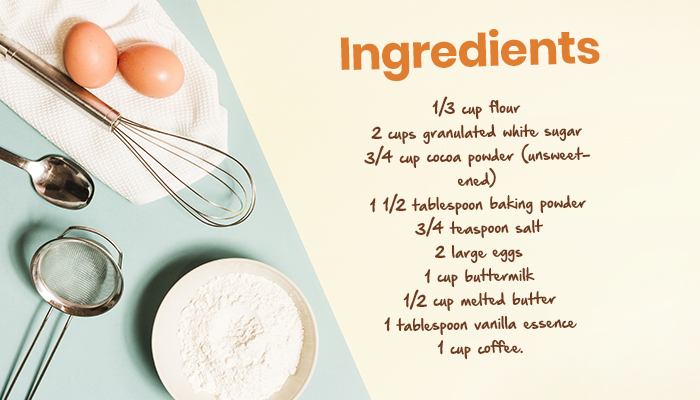 1/3 cup flour
 2 cups granulated white sugar
3/4 cup cocoa powder (unsweetened)
1 1/2 tablespoon baking powder
3/4 teaspoon salt
2 large eggs
1 cup buttermilk
1/2 cup melted butter
1 tablespoon vanilla essence
1 cup of coffee.
Instructions
1 – You can always start by preheating the oven at 350 degrees Fahrenheit or 180 degrees Celsius-if you're wondering "what is the right temperature for baking chocolate cake?.  While the oven gets preheated for 15 minutes, which is the right temperature for baking cake in an electric oven, you should grease the baking dish with butter or sprinkle flour to ensure that it doesn't get stuck on any side. You can even attach the parchment sheet in the baking tray to make sure it remains intact without getting stuck.
2 – When baking, it's always better to mix the dry and wet ingredients separately and then mix the two, As the dry ingredients include flour, cocoa powder, sugar, baking soda, and salt, make sure that you sieve it and only then mix the ingredients. While the dry ingredients are kept aside, you can add wet ingredients like eggs/buttermilk (used in eggless chocolate cake), melted butter, and vanilla essence along with coffee. Mixing the two with the help of a beater or mixer, make sure that there are no lumps in between and the batter gets perfectly beaten up until it becomes smooth and tantalizing like liquid chocolate.
3- As the baking dish is already greased, it's up to you to pour the batter into it carefully and ensure that it is spread evenly on every side. This dish then is transferred in the oven and left to bake for about 30-35 minutes. While the cake is being baked, you can check it occasionally with the help of a toothpick or skewer which comes out clean your cake is ready. Thus, take it out of the oven and let it cool down before decorating it to make it look like those beautiful chocolate cake images.
Decoration
One of the things that makes a chocolate cake so appealing is the icing or the decoration on the top making it look straight out of a Willy Wonka chocolate factory or from the ones featured on the online gifting sites. Thus, when you are struggling with- how to decorate a chocolate cake?
There's always the easy way or the complicated one that takes a little more effort. Thus, from the usual chocolate sauce (cocoa powder, sugar, butter) with gems on top or even some intricate piping or a fondant overlay, any decoration on chocolate makes it look appealing reminding us that what's on the inside is even more interesting.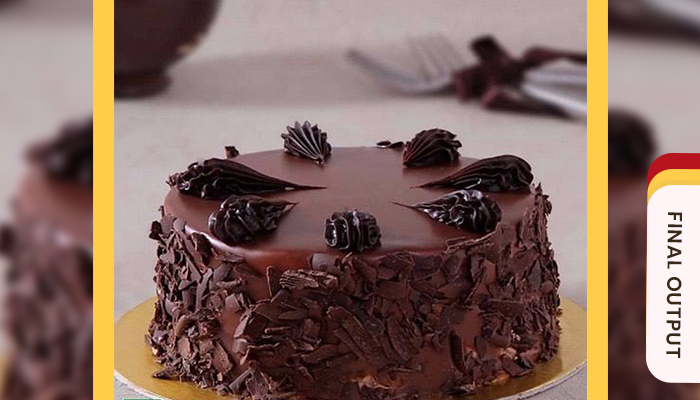 Thus, cake decoration being the final and most important part of a chocolate cake, it's like the cherry on the top, making it our favorite one. Therefore, by following this recipe, you can prepare your very own chocolate cake at home, anytime instead of relying on online cakes delivery.
You Might Also Like