More than Friends, Less than Lovers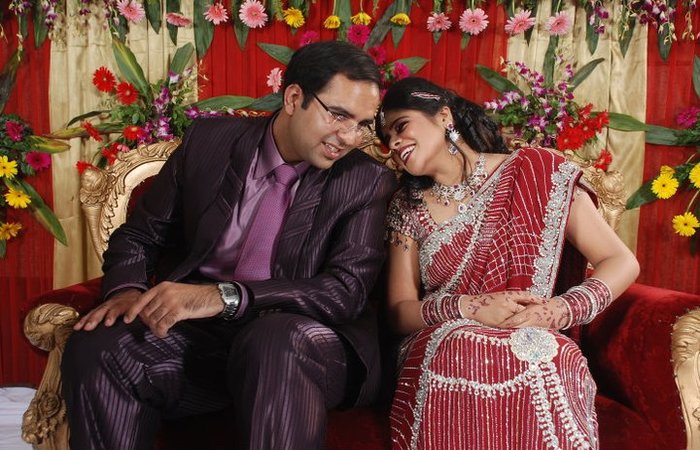 People say marriages are made in heaven, and they really are. While living on earth, we have to find that one person who compliments us very well. We all have a picture of a partner that we dream of, and I also had a picture of how my life-long partner would be. Mine was an arranged marriage. While searching for the man of my life, I rejected many of the guys and still don't regret about it. Not because I considered myself better than them. Just because they didn't fit in my picture of a life partner. Though I belong to a family with business background, I never wanted to marry a businessman and so I did. Yes; I married a Software Engineer.
Our first meeting was arranged by family members in February 2009, and co-incidentally we reached the venue at same time. That time I saw him getting off the car. At that very moment, I was in doubt whether he is the right guy to be my partner for life. While we entered the restaurant, I got a seat opposite to him. We had frequent eye contacts but I didn't feel anything special about him. However, after family talks, we got a chance to sit alone and talk. Initially, there was silence and then he initiated the conversation saying, How are you? I smiled and didn't reply. I was still in doubt. A war was going on between my heart and mind.
HEART: "This is what you wanted- a well qualified professional with decent salary."
MIND: "He is also from a family with business background."
HEART: "He is a self-made man, and will understand you and your career aspirations very well."
MIND: "He is from a business family and his family may not allow you to work."
Then he asked if I would like to have Paneer Tikka as waiter came to serve us? I replied I don't like paneer much. And the conversation started with our food choices. We had a quality conversation for approx one hour where we discussed about our career aspirations, lifestyles, etc. The best part of the conversation was when he said me" I will never ask you to change. You are free to live a life you have been living so far." And I realized this is the right person for me (and my HEART won the debate). Yes, he is the person who accepted me as I am.
After this meeting, our marriage was officially fixed on March 15, 2009 and our courtship period started. Our initial meetings were never alone, sometimes my cousins and sometimes his cousins. At that time I felt why others are more excited about the marriage than us. We used to talk thrice a day- morning while going to office, during lunch time in afternoon and in evening while returning to home. Our most of the conversation revolved around work, life, dreams, and family which brought us closer to each other. It also made us realized we are totally different. But only opposites attract, and this is what completes us.
After 3 group outings and weeks of telephone conversation, our engagement ceremony took place on Saturday- May 2, 2009. Our first couple date happened on May 3, 2009. That day we first went to Sai Baba Mandir and then for a long drive. While driving his car, he played 'O Jana' - Raaz 2 and told me its his favourite song. As it was the first date, he offered to be my life-long friend and I said yes to his proposal. Friendship that started then still exists, rather I would say its the root of our strong relationship.
After that we had 2 more dates and then he left for US for an onsite project. Before leaving, he gifted me a mobile phone and the best part was he set the picture of Radha Krishan mandir as the phone wallpaper' and also loaded some of the songs and among them one was 'O Jaana' .
They say 'Distance makes the hearts grow fonder' and our relationship blossomed despite the distance. During this time, we used to talk once a day because of different time zones. It was during these days I myself got crazy about this song- O Jaana, especially because of its nostalgic lyrics. I think this distance made our hearts started beating even faster, and we were hopeful about the future.
He returned in September and we used to meet on weekends until December 2, 2009 when we get married and have been inseparable forever. Till date, he has been a true gentleman and a perfect buddy to hang out. He has always guided me from time to time through some of the challenging situations at work and in personal life. You must have heard a quote "Friendship is when people know all about you but still like you anyway". It has been so true in our case. Yes; we are more than friends and less than lovers.
-DIVYA WADHWA